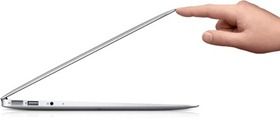 If Apple launches a 15" MacBook Air this spring it will send a strong message to everyone that the time for traditional laptop designs is coming to an end. A report at Apple Insider says it's likely to happen. Personally, I'm not surprised at all. We've already seen Samsung and Acer launch 15" ultra-thins and if the Ultrabook methodology is as cheap as I think it is, traditional style laptops for gamers could get more niche, and more expensive. The same will be true of traditional MacBook Pro.
A launch of the new MacBook Air models hinges on Intel's Ivy Bridge platform availability so the reported 'April' launch could be well towards the end of April with devices being available in May although with Ultrabooks also lining up to use the platform, it will be interesting to see who get's the first batch.
You'll see vastly improved graphics in the HD4000 GPU (up to double to 3D power in some benchmarks) and a more efficient silicon design. Apple seems to be doing very well at squeezing in large Lithium Ion batteries to so expect a bump in capacity to bring 'always on' nearer to reality. As is often the case with OS X vs Windows on similar hardware, OS X is likely to be more refined given that the OS developers only have to work with a limited range of hardware support.
One thing we won't expect to hear is the word 'Ultrabook' on launch day.