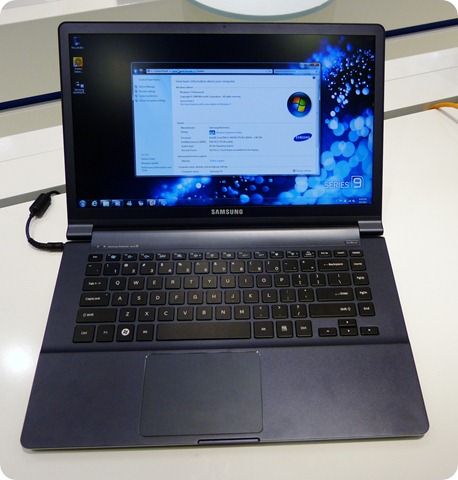 Thin and beautiful but big and usable. The Series 9 15" is an exciting laptop to see, an exciting laptop to hold and and exciting laptop to use. The finishing on the Series 9 2012 is slightly less 'out there' compared to the 2011 Series 9, still a fantastic ultralight but loses nothing in terms of style. 1.4KG, 1600×900 screen, full SD card slot, Centrino  6230 Wi-Fi module and it looks like some great power consumption figures. We don't have official figures but we think the battery capacity is a very usable 68Wh. [6200mah is given on specs and a (3×3) 6-Cell battery makes 68Wh] It would match Samsung's claims of 10hr battery life. We measured some respectable minimum drain figures too…
The keyboard feels great and the screen quality is up there with some of the best.
We hearing that the price will be above €1500 and we suspect it could touch €2000 with a full 256GB SSD and Core i7. Availability is likely to be April in Germany with the 13.3" slightly ahead of the 15" at the moment. Details could change but we're in contact with Samsung and will bring you details of any changes.
Here's the hands-on video.