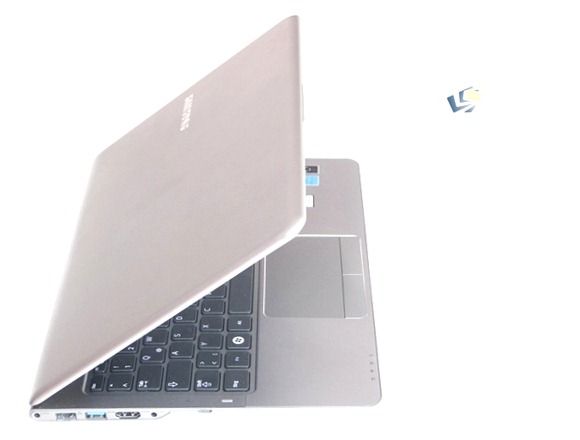 I've just finished the main text for the full Samsung Series 5 13" Ultrabook review. It's been a tough one. [Details, specs, gallery here, Review will be live tomorrow and linked on this page.]
To all intents and purposes the Series 5 is a simple, unfussy and polite Ultrabook but there's a lot going on under the hood. It's a swan! Express Cache is doing it's stuff to improve boot, hibernation and application startup times and Turbo is giving a leg-up where needed; but only a little one. It seems the Samsung Series 5 has been de-tuned in order to keep it quiet.
The review has been written now but I'm still investigating the issue of low Turbo 2.0 performance and the results are going to affect the way I look at, and present performance results in the future. Turbo 2 can do a great job for short-term CPU load requirements but what happens when the device is warm or when, as it seems is this case here, the headroom for Turbo [the amount the silicon can heat up before the Turbo is cut-back] is configured in a very restricted fashion. Detailed reviews of Ultrabooks will become more important for buyers as these features, or if you like 'tricks', proliferate.
The 'feature' presented itself to me through an email from a fellow blogger [shout out to Nordic Hardware, Sweden] and tester who is also working on the Series 5 and asked me if I'd seen any strange activity with Turbo not working well on the Samsung Series 5. At that stage I hadn't started doing pure performance tests. The Series 5 had done well in our live review (always a great way to get a feel for general performance and battery life) and I was just starting writing up the review. As I hit the first Cinebench CPU test I started to see the same problems. Turbo was weak to say the least. Not only was it not accelerating up to the high speeds we see on some other Ultrabooks but it was being cut down very quickly. If my short term eyes-on with the CPU core temperature are correct I'm seeing it throttle back when the CPU cores reach 75 degrees which I think is less than other Ultrabooks.  The same effect appeared when I did a video conversion test with MediaEspresso. The results were poor compared to other Ultrabooks in the same category. Changing power settings and adding mains power didn't help.
The experiences made me think about the fan. It's never really running hard or loud and there is a noticeable heat build-up on the base of the Series 5 when under load. Maybe the thermal solution in the Series 5 isn't up to scratch? The Z830 might have a very loud fan but it seems to be doing a good job – Turbo 2.0 on the 1.7Ghz Core i5 version I also have is screaming along in comparison to the Series 5.
Turbo 2.0 Overview from Intel.
There are two important things I'm noting here though. 1) It took synthetic tests before I saw this issue. In general use I would never have spotted this and I really wouldn't be surprised if it was intentional by design. The Samsung Series 5 is a polite, clean Ultrabook and this tendency towards 'quiet' certainly fits its character. 2) All CPU's aren't the same, even when they are the same! Turbo 2.0 performance will remain an unknown quantity on paper. This configuration by Samsung could effectively be a TDP limit; something we'll see exposed even more when Ivy Bridge and programmable TDP comes along.
If there are any of you out there that have a deep understanding of Intel Turbo 2.0 set-up, raise your hand. Is it true that the temperature limits are variable and held within the BIOS such that Samsung could design a de-tuned Turbo 2.0 feature to aid battery life or noise or are we just seeing bad thermal design here? Should, or could,  Samsung be offering better user-level power profiles that could get more from Turbo 2?