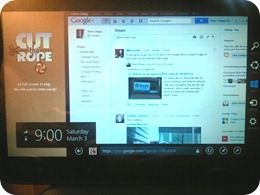 I'm in Hannover, Germany, for CeBit and as I start this article, Sascha Pallenberg of Netbooknews.com is sitting on the other side of our 'blog apartment' watching the Windows 8 consumer preview keynote from Mobile World Congress last week. A few evenings ago I was testing Windows 8 on an Atom-based tablet and while all that has been happening I've been thinking about Cover Trail W,  the ultra-mobile platform that Intel have built to run Windows 8.  In dual-core 1.8Ghz build with an SSD and 2GB of RAM I think we'll have a winner on our hands when it comes to a platform. We can only hope that manufacturers see the potential for new form factors with this platform and operating system combo.
While the ARM-based platforms are approaching the same processing power band as we see on the high-end Atom platforms (Qualcomm's Snapdragon is looking particularly impressive in terms of dual-core performance) they won't contain the full goodness of Windows from day one. By that I mean you won't be able to pick up an ARM-based Windows 8 platform and be able to download and install your favorite desktop apps. Clover Trail "W, on the other hand, is a full X86 PC platform and will act like an Ultrabook or a desktop PC and I believe that Windows 8 will be able to pull some impressive low-power usage figures out of the platform. From what I've seen in my testing and listening between the lines to what Intel has to say about Windows 8, it will definitely be 'Clover Trail aware.'
In my testing of Windows 8 Beta this week I was getting those old ultra mobile PC and modular computing feelings back again. Windows 8 is likely to be the first usable 'smartbook' operating system on the market. Android always looks great in demos on the ASUS Transformer Prime but there's a long road ahead in terms of filling the gaps for productivity workers. There's a Prime sitting on the desk to the right of me now but this article is being written on a Samsung NP350 which is faster, cheaper, and more productive.
I'll be looking for more information on Windows 8 and Clover Trail W this week. We've seen a demo device or two behind glass but maybe now that the public preview is available, manufacturers won't be so shy with the Windows 8 letting us have hands-on.
Is there any big Windows 8 questions that you think need answering?