Touch is coming!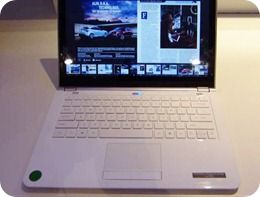 I think myself and a number of other tech bloggers have written that more than once over the last 5 or so years but in this case, in 2012, we've got a market that appears to be primed, hardware that can take advantage of it and operating systems that are build around it. I'm not talking about Android or IOS tablets, I'm talking about Windows PCs.
With Windows 8 looking towards mobile touch and the Ultrabook and Tablet platforms from Intel and AMD pushing in that direction too there's a very good chance that developers will hook into the ecosystem and complete the circle.
I had some time to fondle the Intel Touchscreen Ultrabook reference design this morning, to test out the Zinio reader application and to check out things like weight, size and screen thickness. Intel have done a great job on the reference design and it includes 3G, NFS and sensors. Obviously this is the one going out to OEMs, OEDs, ISVs and OSVs to stimulate them although it looks almost shelf-ready. I wouldn't be surprised if we saw design this re-appear, on shelves, later this year.
Learn more about the touchscreen reference design in the video below. View more  images in the gallery here.