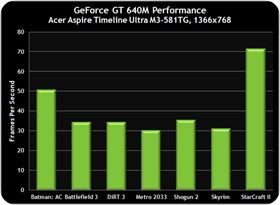 Calling all Ultrabook designers, manufacturers, OEMs. Putting discreet graphics in Ultrabooks is not going to help the Ultrabook and it may come back to bite you. Mainstream buyers don't understand what it means, gamers aren't interested, video editors use Apple rigs and that just leaves the niche market of mobile geeks that do a bit of gaming on the side, a big bunch of impressionable bloggers and anyone you can tease with marketing, advertising and a bunch of stickers. Well, maybe that's what it's all about; the ability to market a product. I still think it will hurt the Ultrabook though.
I understand there are reasons to have discreet graphics options (and Patrick Moorhead makes a good case for that in his article here) and I say 'good luck' with your differentiation, marketing and targeting but there are currently limits to what can be done in 1.5KG. Anyway, wouldn't you manufacturers rather serve a real gaming rig to a gamer and a proper video editing PC to a video editor?  Why would you even attempt to offer 'gaming' on an  Ultrabook if 1) It's never going to impress a gamer. 2) The battery life will be short and the device will get very hot and noisy? The experience will be disappointing and it could come back and bite the Ultrabook brand with bad reviews and reports. It will water-down the definition of an Ultrabook. It could be counter-productive.
There are, I agree, some advantages in being able to tease a buyer by allowing them play their latest games but 155fps isn't the way to do it on an Ultrabook. 30fps and 'just enough' settings is where it needs to be capped for efficiency and heat's sake. 'Just enough' is exactly what Ivy Bridge could be offering so why throw in a complex add-on?  Keep Ultrabooks clean, light, efficient; Understandable.
Nvidia have a GT640M series design win in the Acer M3 but this is a classic example of why it's wrong in an Ultrabook. The Acer M3 is all over the place in terms of messages. Is it a thin and light laptop? No, it's double the weight of some Ultrabooks. Is it a gaming device? No, it pulls some good peak frame rates but it's nothing like the gaming experience that gamers are looking for. Is it going to help video editors? No, I doubt you'll see high-end video editing software being used on Ultrabooks. Mainstream video editing is where it's at and Quick Sync Video is doing an excellent job there. [Laptopmag proves that even Kepler doesn't beat it. Link below] Does it help with 'GPU accelerated' browsing? Nope. At least not that any customer would notice. Is it going to improve video playback? What Ultrabook customer is looking for 1440p or 50Mbps playback? Stretching the Ultrabook over these markets is going to make it rip apart.
Not only is the solution going to disappoint those that it's targeting, it hurts the very root of the Ultrabook – a pure, easy to make, easy to design, sealed, thin and light unit. Adding a discreet GPU makes the design process more complex, the manufacturing process more expensive, the product line longer, the possibility of failure higher and the power efficiency lower. It also increases the weight – in components and thermal solutions.
Nvidia will tell you something else of course.
"NVIDIA Optimus™ technology enables extra-long battery life by automatically switching the GPU on and off so it runs only when needed" – Actually, adding a discreet GPU into an Ultrabook, or any laptop, can only reduce battery life.
"[Nvidia 600M series] will be the most popular discrete GPUs used with Intel's upcoming Ivy Bridge processor." The competition, AMD, might not get in at all in this round. Indeed, Nvidia GPUs could be the most popular discreet GPU and in real numbers, I wouldn't expect more than 10% of Ultrabooks to be Nvidia-enabled devices, as high-end options. 4 or 5 solutions is our guess.
"The following manufacturers will be shipping Ultrabooks and notebooks based on the GeForce 600M family of GPUs: Acer, Asus, Dell, HP, Lenovo, LG, Samsung, Sony and Toshiba." – From what we've heard at UBNews, that's Acer and Samsung that will be shipping Ultrabooks with discreet GPUs. Maybe Asus will have an option too. The rest will likely be 'notebooks.'
"Available soon from all retailers and e-tailers, these Ivy Bridge-powered ultrabooks are worth waiting for." – No list of Ultrabooks given.
I don't dispute that Kepler is an awesome bit of technology and that for Ultrabooks, there need to be a few 'options' but it really has little place in driving the Ultrabook brand. Get Kepler in a smaller notebook and put a larger battery and fan in it along with all the ports required but don't call it an Ultrabook for the sake of it.
Of course, if the definition of an Ultrabook already includes 2.3KG laptops with DVD, numeric keypad and discreet graphics then I guess the pure design of the Ultrabook has already been maimed and maybe the 'Ultrabook' is already suffering but I'm sure that's not what Intel would like to see over the next few years and I hope they will try to stear it back towards mainstream, simplicity and style.
Nvidia GeForce 600M microsite.
Update: CNet also highlight the dilution of the Ultrabook brand in a different way.