Western Europe will tie with North America as the largest Ultrabook market in 2016 with sales of around 90 million in total, says a report by Juniper Research, UK. Global annual sales are predicted to be 178 million for 2016. Sales will take-off in 2014.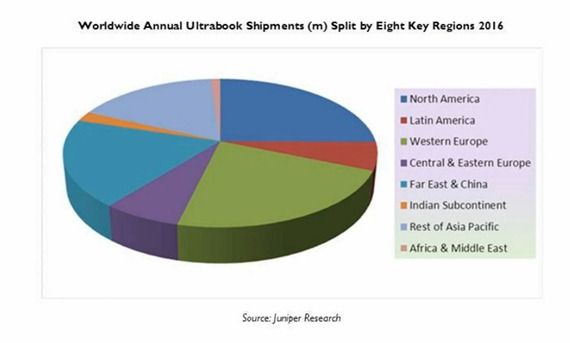 Full details are only available to those paying a hefty sum for the full report but Juniper give us a few things to think about in a video, a white paper, a press release and a list of contents…
"The 'Ultrabooks & Mobile Computing' report finds that the consumerisation of IT is making the traditional notebook seem like a museum piece"
We couldn't agree more. The notebook, and particularly the netbook, is missing style, sensors, always-on, try-and-buy apps and many other elements of the mobile ecosystem that lock people in. This needs to change.
Juniper are bullish about the way Ultrabooks are moving and are predicting that 178 Million Ultrabooks (we haven't got their definition available but we assume it's devices build around the principles of the thin, light and fast Intel Ultrabook of 2012) will be sold in 2016.  This is a more than 4x the peak yearly sales of netbooks – around 40 million in 2010.
By comparison, Juniper are predicting a 253 million total for Tablets. Again, the definition of a tablet is not given.
There are some wooly statements in the press release but the table of contents and the video (below) gives some more information about the depth of the report. There's a white paper too which is available for free after registration. It gives us an idea of Junipers growth projections.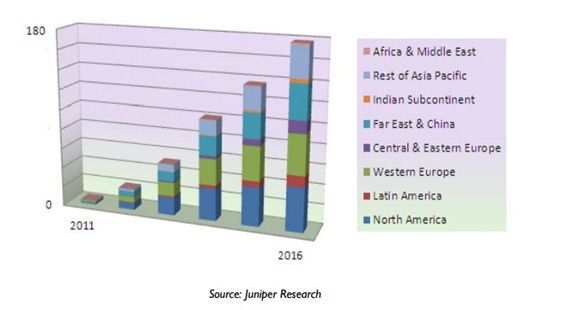 My estimates from the graph:
2016 – 178 million sales
2015 – 135
2014 – 95
2013 – 48
2012 – 18
2011 – 3
There's a great quote in the white-paper:
Intel is trying to put some momentum and energy into the market which, for all of us on the PC-side is a good thing…Intel is investing capital to get the ecosystem moving, to drive prices down, to get volumes up, which is good for us; it's good for the market.
Who said it? I'll let Juniper take credit for that work so register for the White Paper here. The press release is here. The full report is available here. The author talks about the report in the video below.
Via – Into Mobile