3. Minecraft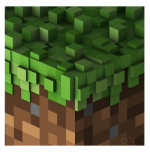 If you haven't heard of Minecraft by now, then you haven't heard of perhaps the most successful indie game ever made. From humble beginnings, the title has now sold 5.6 million copies and registered 26.7 million users. The gameplay is what you make of it as there are essentially no pre-defined objectives, but the entire game revolves around a randomly generated world that, for all practical purposes, is infinitely large. Minecraft is a bit like virtual legos with some adventure thrown in. The randomly generated world consists of many cubes of different materials; once you've gathered various resources, you can craft them into useful tools and items. Build yourself a house, explore the vast world, farm the land, tame animals, design complex redstone circuity, explore vast and dangerous caves, or battle monsters at night (or all of the above) — the only limit is your imagination. Although the game maintains a very 'blocky' feel because of its nature, the dynamic day/night and weather cycle combined with the randomly generated terrain can make for some truly inspiring vistas. Make the game even more exciting by jumping onto a multiplayer server to build and explore with friends. This game is surprisingly addictive… you've been warned. If you do play, you'll want to see this handy tutorial page and the Minecraft Wiki… the world can be an unforgiving place (and the lack of tutorial doesn't help). Watch the trailer below to get an idea of how the game works:
For Best Performance: I'm a big fan of Minecraft and getting the best performance will require more tweaking than a simple resolution adjustment. I'll be dedicating a full article to optimizing Minecraft performance on HD3000 for Ultrabooks, stay tuned!
Awards:

2010 Good Game Best Downloadable Game
2010 Indie DB Indie Game of the Year
2010 PC Gamer UK Game of the Year
2010 IGF Grand Prize (Seumus McNally Award)
2010 IGF Audience Award
2011 Game Developers Choice Awards Best Debut Game
2011 Game Developers Choice Awards Best Downloadable Game
2011 Game Developers Choice Awards Most Innovative Game
2011 GameCity Videogame Arts Prize

Metacritic Score: 93/100
Play the Demo Here: (verify performance before you buy!) [this is a much older version of the game in 'Creative' mode, which is arguably much less fun that survival mode with monsters!)
4. Superbrothers: Sword & Sorcery EP
Originally launched on iOS, this unique title just made its way to PC in the last week. This 2D side-scrolling adventure game features a beautifully crafted pixel-art world. You'll journey through the forests and areas surrounding Mingi Taw, uncover the secrets of the enthralling world, and perhaps most importantly, be serenaded by the excellent soundtrack created by Jim Guthrie. This game is quite linear, but somehow manages to attach you to the world and to characters despite being named nothing more than 'Logfella' or 'Dogfella'. The reason that there is an 'EP' in the title (as in: an album) is that the music really is part of the experience. The score compliments the game to a stunning degree and is a wonderful album to listen to even on its own. Better yet, if you buy the game for PC, the album is included with the (very reasonable!) price, making this a great value (especially because it's currently on sale).
For Best Performance: This is the one game on the list that I haven't been able to test first-hand, however, any Ultrabook with HD3000 graphics should fall well within the minimum recommended requirements!