Back at CES Intel declared that 75 Ultrabook designs were in the pipeline. Today, at IDF, they gave a breakdown of that number by screen size.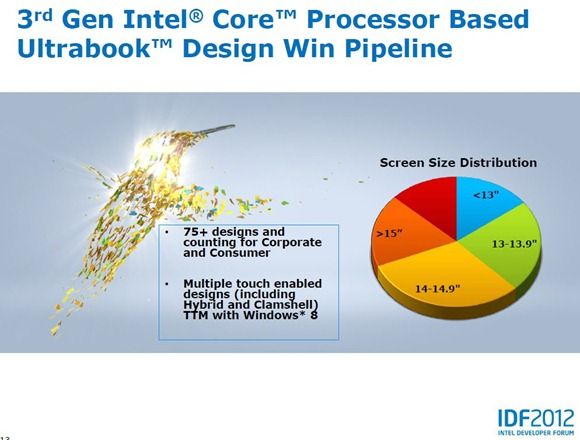 By my reckoning, you've got the following numbers…
<13" –  10 models
13-13.9 – 20 models
14-14.9" – 22 models
=>15" – 16 models
Remaining – Unknown
[Numbers are estimated.]
Intel may be counting slight variants and re-brands in these numbers and don't expect them all to appear in your country but the chances are that you're going to have a choice of at least half of those numbers by the end of the year. There's something in there for everyone. Quite what the remaining 'unknown' segment is remains unclear but these could be private or devices that aren't finalised designs. For the ultra mobile fans, it would be nice to see how low that it goes. Will be see 11.6" Ultrabooks for the first time, for example.