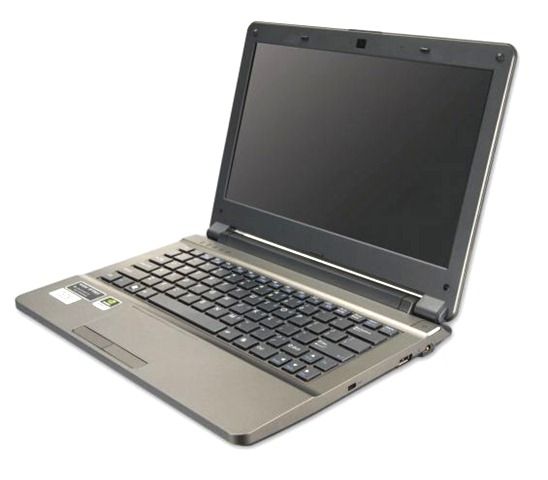 The Clevo W110ER  shows how far high-power portable laptops have come but also shows the trade-off between the Ultrabook platform and a standard notebook computing platform. Ultrabooks are unlikely to reach this level of performance in 2012; This level of processing power won't reach Ultrabook sizes and weights!
The Clevo W110ER brings fully-clocked Ivy Bridge chips together with an Nvidia GT650M in a 37mm thick, 1.8KG chassis with an 11.6" screen. While it has a 'gaming' feel to it, it's worth taking a closer look for anyone wanting a powerful 11.6'-er that will run a huge dynamic range of scenarios.
Clevo are a well-known ODM who are punting this out to the re-branders so the specs are obviously all negotiable but according to the spec-sheet, you've got a selection of full-speed Ivy Bridge dual and quad-core options which all offer the HD 3000 or, we assume, the HD 2500 and HD 4000 too. It's not being offered with Ultrabook style CPUs although they may not be allowed to publish that information until the processors are formally launched in June.
Important to note is the weight. 1.8KG will feel very bulky for an 11.6" laptop although they've obviously had to balance the weight with the need for a bigger battery and high-throughput cooling system. Even so, a 62WH battery will only return about 2hrs of gaming. 6-7hrs of web-working should be possible. The 37mm (max) thickness is twice that of most Ultrabooks.
The screen is 1366×768 which, on an 11.6" dimension we feel is an acceptable resolution. Higher resolutions would affect gaming smoothness.
Talking of gaming, the Nvidia GT650M should provide some really decent punch and will help mobile video editors.
There are 2.5" SATA disk options that will obviously range from cheap hard drives to high-end SSDs. That will be the OEMs choice.  A full SDXC card slot, a good range of ports, an internal slot for the wireless card, built-in Gigabit Ethernet, removable battery and dual memory slots for up to 8GB help to cover as many usage scenarios as possible.
OEMs have already started to talk about this model with Maingear being the one getting the most coverage today. The Maingear Pulse will ship on June 3rd with a starting price of $1099. The Verge highlights other OEMs though and includes a link to the full specifications PDF. [Link]
Look for it starting May 29th from a variety of retailers under a variety of names, including the Sager NP6110, Origin EON 11-S, Eurocom Monster 1.0, Maingear Pulse 11 and Mythlogic Chaos 1212