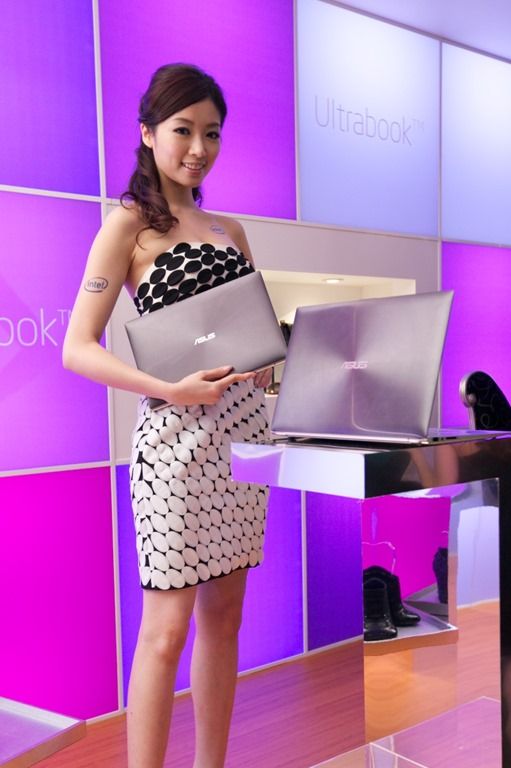 We've been hearing about 23rd April availability of Ivy Bridge for a while now but what does that mean and what does it mean for Ultrabooks? What's clear is that there's still some time to go before anyone is able to buy a 2nd-gen Ultrabook. Our estimate for the earliest models is now mid-June.
There's two things to consider.  'Availability' in this case means 1st shipping of the Ivy Bridge CPUs. Arrival at manufacturers production facilities  comes some days after that and then manufacturers can ramp up their production lines for the first major run. Testing and shipping from the production facility and then testing by distributors and shelf availability will take 2-3 weeks after that, for the first-in-line and ready-to-go manufacturers. We're estimating mid-May for the first Ivy Bridge laptops. But not Ultrabooks.
Update: Paul Otellini just announced "The first Ivy Bridge chips we're shipping are quad cores" in the Intel earnings conference call this evening. (via)
We're hearing that the 2-core, high-end processors used in Ultrabooks won't start production until mid-May which means you won't see the first Ultrabooks in the hands until mid-June. At that point availability will still be limited and we expect only one or two manufacturers to be able to hit that availability date. After that, other manufacturer products will start to roll in. Here's how we think it will pan out from now until the end of the year…
Keep track of Ultrabook and ultrathin product launches with our special product-only (no news) RSS feed. The latest Ultrabooks are always listed here.
2nd-gen (Ivy Bridge) Ultrabook Timeline
April – Expect Ivy Bridge Ultrabook 'launches' from premium manufacturers from now. At least 2, maybe up to 5 launches could happen in the next 4 weeks. Look for some price drops on 1st-gen Ultrabooks that will give hints. Launches are part of the early marketing and advertising process. Final specs, baseline prices and a rough availability should be given.
Mid May – 2-core, low power Intel Ivy Bridge silicon production to start.
End of May – 1st shipments reach 'first-in-line' Ultrabook manufacturers.
1st week June – First production run of premium models of new Ultrabooks.
3rd week June – First products hitting shelves in main countries. (Taiwan, Japan, USA)
End of June – Ramp-up of availability for early models from tier-1 manufacturers including other main countries. (Germany, UK, Canada, Australia, Western Europe)
July – staged availability of mainstream models and 2nd-tier manufacturers. Look out for the 'back-to-school' offers in the USA. Big marketing push.
August – Street prices starting to drop to sustainable levels (-5%, –10%) End of back-to-school offers. Production numbers increase to feed the Q4 sales period.
Sept-Oct –  Q4 launches, holiday season marketing ramp-up in many of the large geographical markets. Intel provides more details of 3rd Gen platform, Haswell
Oct-Dec  Wide availability of Ivy Bridge Ultrabooks at competitive pricing.  Tail-off on production of 1st-gen Ultrabooks. Stock clearances should provide good offers.
Dec – leaks, marketing for CES soft launches of 2nd-wave of Ivy Bridge Ultrabooks at CES.
How does this affect your planning? Don't forget that 1st gen prices will continue to drop throughout this year (I spotted the HP Folio at a new low price of $849 at Amazon US today) and that we should start to see the first AMD Trinity ultrathins launched in the next month or two.