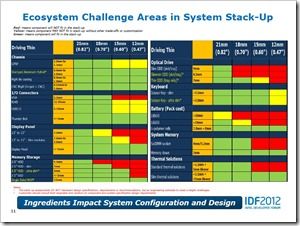 One of the main aims of the Ultrabook is to reduce component count. High integration of silicon, removal of 'sockets', reductions in ports and simplification of the power subsystem are areas that Intel and its partners will be working hard to advance in the next 12 months. By reducing component count you make the Ultrabook simpler and cheaper to design and manufacturer. You also increase reliability. For the end user, it means smaller, thinner designs are possible too and there's no question that we all like 'thin.'
The current Ultrabook design guidelines require 13.3" screen products to be no more than 18mm thick. An extra 2mm are allowed for touch enabled devices. In the future, Intel think, at least in theory, that 12mm is possible. It will require advanced design but the technology is almost available. One wonders if Apple may be going along this route for the new MBA. They are one of the few companies that have the money to design something like this and then sell it the premium price it will need.
Only the best-in-class components can be used for ultra-thin laptops and these included stamped metal chassis', lithium polymer batteries and the next generation ultra-thin screens. SSD's, memory, CPU, GPU and even hard drives may need to be glued or soldered directly onto the chassis or motherboard and thermal design would be a big challenge. You wouldn't have any space for optical drives, VGA or RJ45 ports although you might be able to squeeze a USB port or two into the design. One of the biggest challenges could be the only electro-mechanical left device in many ultrabooks – the keyboard. New technology could be needed here because the traditional scissor switch method may have reached its limit in terms of key travel and feedback. New mechanical switch technologies will need to be developed. Maybe this is an area where the $300m Ultrabook fund will help. Intel are also challenging their partners to work on 'in-cell' touch sensors in screens for 'one glass solution' premium screens at 0.7mm thick.  5mm hard drives could be the solution for large storage requirements. 1TB of storage is already expected on a 7mm thick drive in 2015.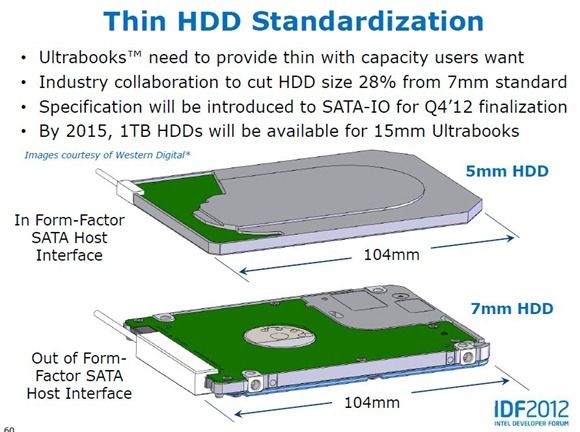 Looking at the technology, one wonders whether if 12mm is the limit. Until a screen can be printed with circuitry, solar receptors, touch, camera and gesture support, I don't see how the design can get much smaller. Even then, it will require the user to be happy with little mechanical feedback from keyboards. The mind boggles!
Don't expect 12mm Ultrabooks (or MacBook Air) in 2012 or even early 2013 as we're only at 16mm today (Toshiba Z830) but once the design challenges have been overcome, 12mm Z-height could be the ultimate laptop challenge.
Information via Intel IDF presentation. Slides for all IDF 2012 Beijing presentations are available here.