Shown at CES and presented as 'back to school' Ultrabook solutions, the Lenovo U310 and Lenovo U410 were never going to have the best specification list but at a target price of $699 with Ivy Bridge they are definitely worth watching.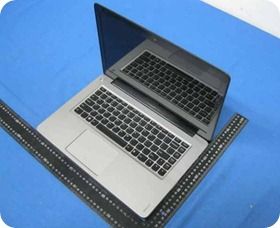 A few images and a user manual has appeared at the FCC clearing-house which gives us confidence they they are preparing for launch. We've gleaned a few more specifications too.
Gone is the Intel WiFi that was talked about at CES and instead of a "50w or more" battery you've only got 46Wh on the U310. The U410 will come with 56Wh. Both devices have a hybrid hard drive (specs unknown) and the U410 gets 8GB of RAM, 4GB more than the U310.
Internally, and in the manual, there are hints of Wimax or 3G module options and although the Broadcom Wifi module doesn't support Intel Wi-Di, it does support BT3.0+HS
The U310 will weigh 1.7KG and the U410, 1.8KG. Definitely not the lightest of Ultrabooks.
Full specifications in the Lenovo U310 and Lenovo U410 specification pages.
Our hands-on video below.
Hat-tip Liliputing