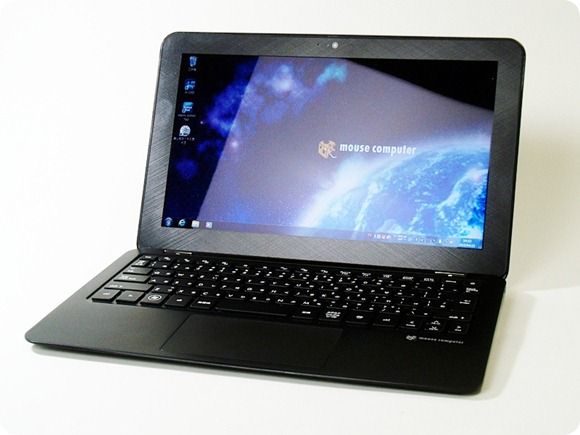 Releasing a 1st-generation Ultrabook while the excitement builds to 2nd-gen Ultrabooks based on Ivy Bridge may, at first, seem a stupid move but when it's a unique product like the new LuvBook X from Mouse Computers in Japan, it may not make much difference. The LuvBook X is going to be the second 11.6" Ultrabook on the market, the first with a carbon-fiber body and the first to break 1KG.
PC Watch got their hands on a pre-release version of the Ultrabook and appear to be happy with their tests although it doesn't look like they had a lot of time with the LuvBook. In comparisons with the MacBook air it's slightly smaller and 100gm lighter. Weight is a key factor for 11.6" Ultrabooks and at 985gm (34 ounces) the LuvBook X beats them all.
Pricing for the entry level Core i5 model is a local 89,800 Yen but goes up to 109.830 for a Core i7, Windows Pro and Microsoft Office Personal. That's around $1100 dollars local price.
Specifications
Core i5-2467M (Core i7-2657M option)
4GB RAM
120GB SSD (Adata)
11.6" 1366×768 glossy screen
mini Display Port
headset port
USB3.0 x 1
USB 2.0 x1
802.11 a/b/g/n (Railink)
Bluetooth 4.0 (Azurewave)
MicroSD card slot
"5.5hrs" battery life.
298x194x5.5
985gm
Note: No keyboard backlight. Sealed unit.
We would love to see this in markets outside Japan but it looks like Mouse Computer manufacture their own devices so the only chance is, as ever with the best small and light computing devices, to look out for imports. Check out the link below for more info and pics.
PC Watch (translated)