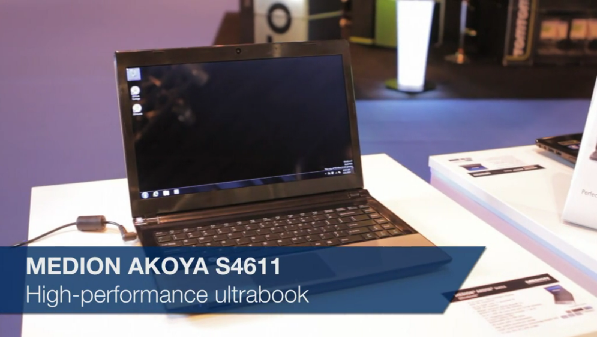 German computer manufacturer Medion has taken wraps off the Akoya S4611 "high performance" Ultrabook. Shown off at the Gadget Show Live in Birmingham, UK, the Akoya S4611 features a 14″ screen (resolution not yet specified) and can be equipped, according to Medion, with up to 1TB of HDD storage space and up to 16GB of RAM. It's not clear at the moment whether or not the unit is sealed — which would prevent after-market user-upgrades of the HDD or RAM. The Ultrabook will be available with the current-gen Intel Core i3, i5, or ,i7 CPU, and alongside the integrated Intel HD 3000 graphics, the Akoya S4611 uses the more powerful NVIDIA GeForce GT630M GPU. Medion has revealed a brief video of the Akoya S4611 which you can see below:
There's no word yet on the Akoya S4611 release date or price; it's likely to only be available in the EU region. Stay tuned for more as it becomes available!
Update from Chippy: Keep an eye on this one across Europe. Lenovo now own Medion and they pitch all their products at the budget end of the market. Aldi, the supermarket chain in Germany and other European countries, tends to use Medion for PC offers and I know from people close to Medion that they have a demanding set of quality controls. The Medion customer base isn't going to respond to the latest hardware like other customer segments so if this is to be a budget offering, it could be a 1st-gen Ultrabook based on Sandy Bridge. Expect a good price and good quality.   The screen looks like a 1366×768 but that's only my opinion from the video.