Engadget China have the first pics of the new, Ivy Bridge Ultrabooks from Asus. As tipped by us in Feb, the two models include full-HD displays. There's a backlit keyboard too. Asus are calling the new Zenbook the Zenbook Prime and it's tipped for June availability.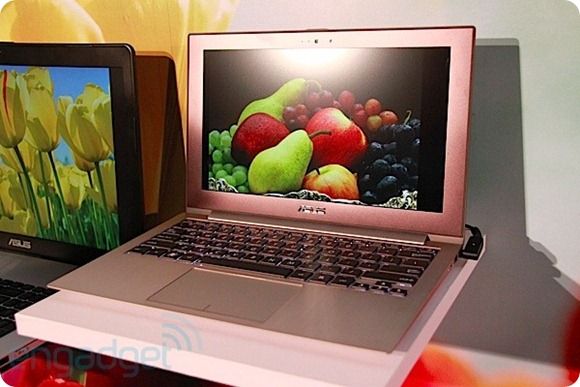 The report doesn't specifically mention the UX31A and UX21A but given previous reports and matching specifications, I'll go out on a limb and say they're one and the same.  The article doesn't mention Ivy Bridge either but do we really need to consider Sandy Bridge as a possibility here? No.
The design is the same as the original ASUS UX21 and ASUS UX31 too but that keyboard backlight is going to make a surprising difference. Looking closely at the pictures I'm almost sure that it's from the same supplier as the keyboard on the Toshiba Z830 which I have in front of me right now.
As for the screen, 1920×1080 on an 11.6" screen is going to be impressive, and a little shocking to those without 20:20 vision. Default Windows text will be small unless the manufacturer has taken the option to be-configure the Windows build for larger fonts.
In terms of ports I see exactly the same layout as on the existing UX21/UX31. It's likely that ASUS are using exactly the same chassis for the Zenbook Prime models.
Pricing is unknown and the question still remains – will the UX31A and UX21A supercede the original Sandy Bridge versions. It's likely because there's also news of low-cost ASUS Zenbooks around. It's safe to say that you can expect a 'refresh' Zenbook Prime with Windows 8 later in the year which begs the question – what's the upgrade cost if you buy a Zenbook Prime now?
Between now and late June, the likely availability date, look out for offers on the existing ASUS Zenbooks.
Source: Engadget China.  Via Liliputing