While the rest of the world waits for confirmation of specs and availability, the guys down under have already reviewed the Toshiba U840 Ultrabook. It's a product that won't be confused with the Toshiba Z830 but there are questions to be asked about the price. The U840 appears to be built for the mainstream market and yet the price is higher than the Z830. We hope that's just early pricing that will drop quickly.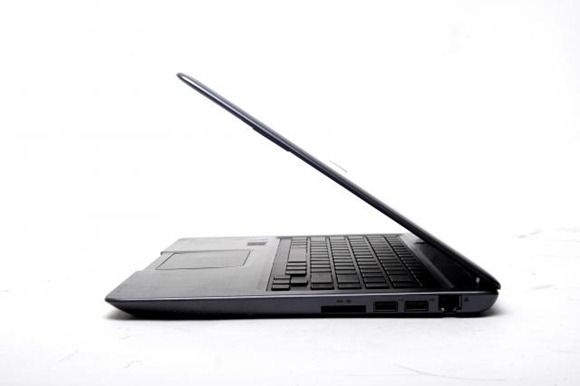 At 1.7KG and coming with a 'hybrid' 320GB hard drive, glossy 14" 1366×768 screen and a thickness of 20mm it smacks of mainstream. There's 8GB of RAM and a backlit keyboard on offer which is nice but there's nothing else here that set's the U840 apart from other Ultrabooks. If it was cheaper, the $AU MRRP price is 1499, $100 more than the Z830, then maybe it would sit very well amongst bigger 14" laptops, but it doesn't.
Sidenote: I can't imagine that the MRRP is going to be an indicator of the street price and I think Toshiba know that too so let's assume it's going to be the big-discount model and that $1499 gives Toshiba a way to get that '30% off' offer out there soon. If I take that stance then I feel more positive about the U840. We'll have to wait for EU/US pricing to see if I'm right.
The PCWorld/IDG review give's the Toshiba U840 3.5 out of 5. The screen seems to be the sticking point and we agree. 'Ultra' books need to be offering customers leading edge productivity and a 1366×768 resolution on a 14" doesn't do that.  The Hybrid drive is a 5400 RPM model and a cold-start book took 54 seconds which leads me to believe that the 16GB SSD is only used for hibernation/standby and doesn't use an ExpressCache feature like the Samsung Series 5 which really helps application and boot times.
Battery life appears to be OK. There's no indication of the capacity but we're guessing it's not pushing any boundaries in terms of capacity.
USB3.0 and HDMI is confirmed but the Ethernet is 10/100, there's no VGA port and no Intel Centrino goodness inside (which often leads to Wi-Di, My Wifi and some good quality performance.)
My take:  Watch the pricing on this drop quickly in  Australia. Look out for low-end pricing in other countries. If not, this could be a B2B only product and you might not see it on many shelves. With Ivy Bridge ultrabooks coming soon there's no room for over-expensive first-gen Ultrabooks any more.
More of our reports on the U840 including full specs and videos can be found here.