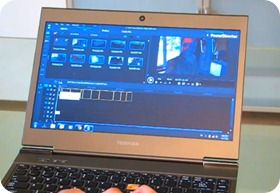 Last year I ran a series of articles about mobile video editing. I covered smartphone, netbook and ultrathin solutions before settling on a  low-cost , low weight set-up.. The Samsung NP350 worked well with its 2.2Ghz Core i3 but by moving up a notch in performance and efficiency, lowering the weight and, yes, increasing the cost by well over 100%, I've found a solution that's quite stunning. I'm not just talking about looks!
The Toshiba Z830 Ultrabook weighs less than most netbooks but packs a 1.7Ghz Core i5 that can Turbo boost to 2.7Ghz. It's got 6Gb of RAM and a great 128GB SSD that, although it isn't the fastest at sequential speeds, knocks the socks of a hard drive solution and works perfectly with Cyberlink PowerDirector 10. The difference between the NP350 and Z830 solutions is huge!
I demonstrated the solution at VideoCamp Germany in Düsseldorf a few weeks ago and learnt a few things too so after a few days thought, I put together a tutorial article and behind the scenes video that shows exactly how I get those product launch videos up in record time.  10 minutes from camera-on to YouTube-ready!
The article is over at Ultrabooknews.com and it shows the hardware, software, method and results.
Are you doing mobile, quick-shot video work? A video journalist perhaps? Let us know your process and hardware in the comments below.