It has been suggested that one of Intel's objectives for the Ultrabook program was to move the conversation away from netbooks, where the bottom line was price — which came complete with low profit margins. And who could blame them for wanting this? Sales of Apple's premium-priced MacBook line were strong as ever while the PC laptop market was seeing a veritable explosion of small, inexpensive machines that were marketed for their low price more than their features or quality.
I must say, it seems to be working. Have a look at this graph of searches comparing 'ultrabook' (blue) and 'netbook' (red) Google web search queries in the last 12 months: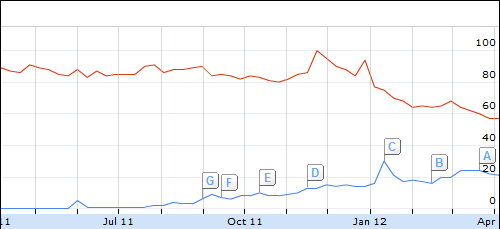 There appears to be a loose inverse relationship between the search terms. The 'netbook' query is falling slowly while 'ultrabook' queries are rising at a similar rate.
'Ultrabook' in Google News actually eclipsed queries for 'netbook' in September 2011 — it would appear as though people are very interested to get the latest word on Ultrabooks while interest in netbook news is falling slowly to the wayside: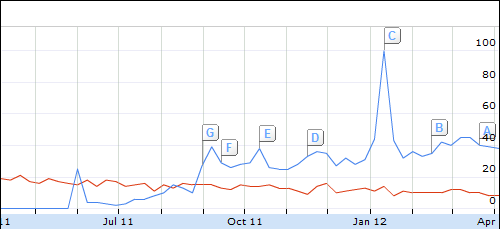 Pushing Ultrabooks over netbooks is a good move by Intel that benefits the whole PC laptop industry — in more ways than just potentially raising margins. Even if Ultrabooks are more expensive than netbooks, they hold a significant edge in processing power, aesthetics, and features, over netbooks. This edge means that an Ultrabook owners can go longer between purchases than a netbook owner. Assuming this works out to mean that, on average, Ultrabook owners are spending about as much as netbook owners are spending over time, Ultrabooks provide a significantly better reputation to the PC laptop market (thanks to superior design and features) than that of their netbook brethren.
But the real question is whether or not the market will follow these search trends.
Pages: 1 2