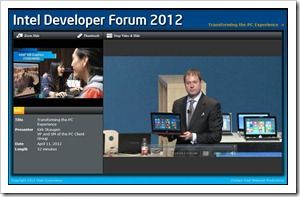 Yesterday (12th April in Beijing) Kirk Skaugen spent 53 minutes on stage at the IDF Beijing 2012 conference. Most of that time was spent talking around Ultrabooks.
You'll see the Hybrid Ultrabook 'Letexo' , graphics, media and touch demonstrations, Windows 8, security, VPro and more.
In the lead-up to his Ultrabook-focused presentation Kirk Skaugen, VP and GM of Intel's PC Client Group, talks about China's lead as a PC consumption country. By 2015 200m more people in China will be able to afford a PC! There's a section on how creation is important and how the Ultrabook will satisfy the left and right sides of the brain.
At 6 minutes in, Kirk begins a more detailed presentation of the Ultrabook project where he mentions 75 designs being developed on Ivy Bridge. There's a section on the huge Ultrabook marketing campaign,  a Chinese version of the 'Wild West' Ultrabook advert, an overview of the three stages of the Ultrabook project ending with the 4th generation Intel Core processor, Haswell. Kirk talks about a '70%'  performance increase in the GPU compared to Sandy Bridge and goes public for the first time about new support for 3 screens, DX11, OpenCL 1.1 and OpenGL 3.1 in the new GPU. The HD 2500 and HD 4000 are 'retina display ready.'
Hybrid Ultrabook
At 15:04 you'll see the Hybrid Ultrabook. It's an Intel internal concept design. Letexo (Hence Lxo branding seen in the previous presentation.)
Graphics and Thunderbolt are covered and demonstrations include regular PC-based builds showing Ivy Bridge performance. Security,a big section and demonstration with touch and Windows 8, an all-in-one lay-flat PC, VPro (coming to Ultrabooks) , and to close, a section on the Intel 'Small Business Advantage.'
Click here for the slides and video.  [We'll embed this when possible.]