Acer just 'launched' (how many launches does it take to get a device to market these days!) the Acer S5 Ultrabook in the UAE.  The 15mm thick Ultrabook with the cool Magic Flip motorized port panel is said to be the thinnest yet. The 1.3KG (under 3lb) Ultrabook will cost, at launch in Dubai, Dh4,999.  We assume that's a zero sales-tax price which equates to $1361 at todays rates.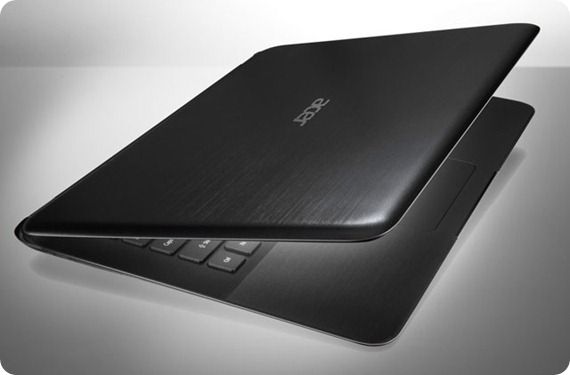 Gulf News, among others, has reported the pricing and availability but there's no additional reveals that I can see across the news reports coming out of UAE. Apart from one….
"By the second quarter, Acer is expected to unveil four new ultrabooks, he said, including the 14- and 15-inch models. That will expand with the release of Windows 8,"
We already know that Acer want to go in hard on the Ultrabook market so this could actually be the S5 + 3 other models. Acer already have the Aspire S3 and Timeline M3 Ultra on the market making a total of 6 Ultrabooks. A list of Acer thin, ultrathin and Ultrabook products is always updated here.
The S5 wowed journalists at CES when the Magic Flip feature was demonstrated but shortly after the press event many people questioned it's durability. Acer told us they've tested it 'thousands and thousands of times' but there's a lot of scope for manufacturing error there. Rugged laptop fans know that moving parts spell trouble.
We've had a couple of hands-on sessions with the S5 and it's a huge improvement on the S3 but you'd expect that if it's going to sit high-up in the market. Our best video is shown below. Clearly this is going to be an Ivy Bridge Ultrabook as we saw HD4000 in the hardware list. LiteOn SSD, and Atheros Wi-Fi are also included. (See post for more images and details.) A 1.7GHz Core i5 3317U CPU is likely. Specs, as far as we have been able to analyze, are available here.
Note that local pricing varies. Our research indicates that the Acer S5 will launch for less than $1361 in the USA. We're hoping for a full launch, again, with country pricing and an official spec list in the next week, latest, Computex in the first week in June where the Acer S5 is highly likely to be on stage at Intel's keynote and 2nd-Gen Ultrabook launch events.
Via Gulfnews.com