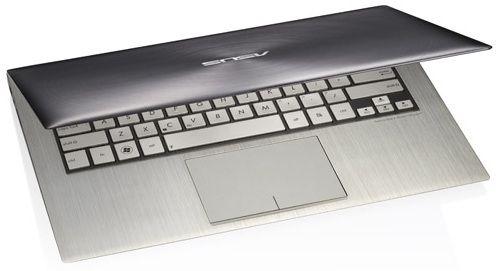 This is an interesting development. We've been waiting for Asus to announce the refresh to their current Zenbook line with the Zenbook Prime, which would update the existing UX21E and UX31E to the UX21A and UX31A respectively. Oddly, Asus has gone and announced two entirely different Zenbook models that are different than the two that we had heard about. At a press event in Taipei, Asus has taken the wraps off of the UX32A and UX32VD. Both will use the latest Intel Ivy Bridge CPU and pack in more ports than their predecessors. The UX32VD will have discrete Nvidia graphics.
Just when we thought that Asus was going to keep the Zenbook line straight in terms of model numbers (UX21 = 11.6″, UX31 = 13.3″), they've gotta go and confuse us all with the UX32 series! I guess we should have expected this from the same company that has launched what seems like hundreds of Eee variants!
Anyway, thanks to NetbookNews.com, we know that Asus is apparently positioning the UX32A and UX32VD to be on the cheaper end of the spectrum, eschewing some of the finer features by default. The UX32A will be Ivy Bridge based with integrated HD4000 graphics while the UX32VD will also feature an Ivy Bridge CPU but include discrete switchable Nvidia graphics in the form of the GeForce GT620M. The base models are looking to hit $800 (for the UX32A) and $1,100 (for the UX32VD). Both models have a 13.3″ screen.
Apparently there will be options to add a full 1080p HD display, WiDi, more RAM, and to upgrade the HDD to an SSD for better performance — making the UX32A almost identical to what we're expecting from the Zenbook Prime models.
The UX32 models also make some desirable changes to the ports by adding an additional USB port (bringing the count up to 3), and upgrading all of those ports to USB 3.0. The micro-HDMI of the UX31 models has been upgrade to full HDMI which is also very nice. The mini-VGA, 3.5mm headphone jack, and full SD card slot all remain as well. These inclusions put the UX32 Zenbook models neck and neck with the HP Envy 4 and 6 as the most port-rich Ultrabooks out there.
Along with these ports, and the option for discrete graphics, comes a bit of additional bulk and weight (1.45kg). You can see a size comparison with the UX31 models thanks to a brief hands on by Nicole Scott of NetbookNews.com:
There is no word on a release date yet for the UX32A or UX32VD, but we're almost certain to hear more at Computex at the start of next month!