Leaked all the way back in February, the Zenbook refresh news was exciting for many. Full HD displays and a backlit keyboard sounded like the perfect way to improve the popular ASUS Zenbook Ultrabook. At that point we didn't know if it was going to be a refresh that included the CPU too. Ivy Bridge confirmation followed-up in March and the real deal, the ASUS Zenbook Prime, was seen for the first time in May. Laptopmag.com have now come through with a review of the Zenbook Prime UX31A, and it's positive.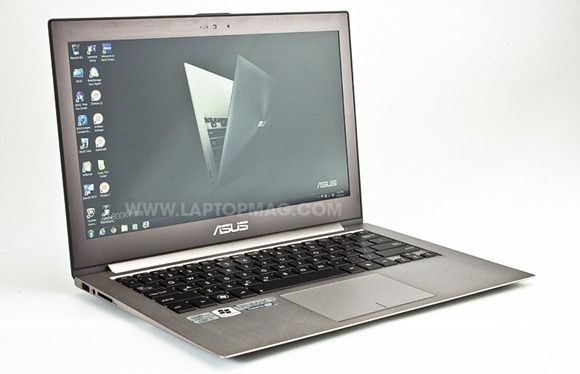 There's lots of new info here so lets take a closer look.
You'll find the full review here and Laptopmag have done a thorough job.
Coming soon – ASUS Zenbook Prime UX31A in our database
The highlight seems to be the screen which is a full HD IPS model that's said to be better than the screen on the Apple MacBook Air but I'm even more excited to see that the keyboard has improved. This is not just the backlight we're talking about. The keyboard was a showstopper for me when I bought the UX31 in Dec and took it back just days later. Do we need to go further because it's already sounding perfect.
Unfortunately it looks like the SSD isn't breaking speed records. More information is needed but there's no mention of it being a problem. Comparison with the class-leading SSD on the original UX31 is likely to be the issue.
On graphics, this Core i7 Ivy Bridge CPU (which is not detailed but likely to be the 1.9 or 2.0Ghz part under non-disclosure agreement) is returning  a 3DMark06 score of 5021, a big step up from 1st-gen Ultrabooks.
Battery life figures are in the 'good' range too; improving on the original UX31.
As for prices you've got the UX31A starting at $1099 (Core i5 , 128GB SSD) and going to just under $1500 (Core i7, 265GB SSD) model. Laptopmag also says the ASUS Zenbook UX32A will start at $799. That is a Core i3-base device with hybrid hard drive and basic screen. More information on that one and the UX32VD (with discreet graphics) in our recent article here.
It feels like ASUS might have got the premium Ultrabook perfect here.  There are a few niggles being reported which include the touchpad but overall it looks like one hell of an Ultrabook package. Entry level pricing on the UX32A looks positive too.
Lapopmag – ASUS Zenbook Prime Review