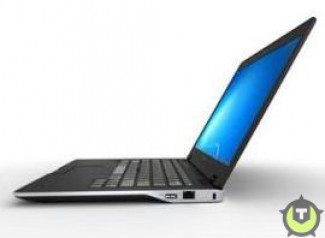 There doesn't appear to be any official word yet, but Tweakers.net (translated) appears to have gotten their hands on info and photos of a forthcoming business-Ultrabook from Dell, the Latitude 6430u, which will have a 14″ screen, removable battery, changeable RAM, and more. This isn't a huge surprise given the success that Dell has reported with the XPS 13 Ultrabook.
According to the source, which was pointed out by Slashgear, the Dell Latitude 6430u has a 14″ screen at 1366×768 (a bit low for our taste) and squeezes just under the maximum thickness for an Ultrabook of this size at 20.9mm (maximum allowed is 21mm for 14″ screens). The weight is 1.74kb which is on the heavy end (for an Ultrabook, that is). On the upside, the battery, RAM, and HDD/SDD are all user-changeable.
On the processor side, we're looking at Intel's new Ivy Bridge chips, offered in i3, i5, and i7 flavors, all with Intel's vPro technology which adds a number of enterprise security features.
The source says that Dell will offer up to 256GB of SSD storage and 8GB of RAM on the Latitude 6430u (though max RAM supported by the Ivy Bridge chipset should be 16GB). There's also an optional SmartCard slot and biometric fingerprint scanner for added security.
What others didn't seem to notice from the photos dug up by Tweakers is that we're looking at two different Ultrabooks.
One of the Dell Ultrabooks has USB and ethernet/LAN (RJ45) on the right side, with full-HDMI and power input on the back, and full-VGA with another USB port and 3.5mm headphone jack on the left. The other, which looks to be more slim, appears to two USB ports on the right side, a full-HDMI (or possibly dock connector) on the back, and power input, full-VGA, ethernet/LAN (RJ45) and 3.5mm headphone jack on the left side. Given the difference in port orientation, it's possible that we're looking at 13.3″ and 14″ variants of the same Ultrabook.
No word on price or release date for the Latitude 6430u yet, but we're likely to see more info about this from Dell in the next three weeks as Computex approaches. We're also soon expecting to see a refresh of the XPS 13, Dell's consumer-focused Ultrabook!