"I have hands on for all the Sony Ultrabooks!" said the email from fellow Germany-based blogger Balazs Gal of Techfokus. Checking out his YouTube channel reveals three videos. That's the Vaio T13, the Vaio T11 and a comparison video. Balazs also got confirmation, from an official representative, that there's an Ivy Bridge version. Yes, the one we spotted!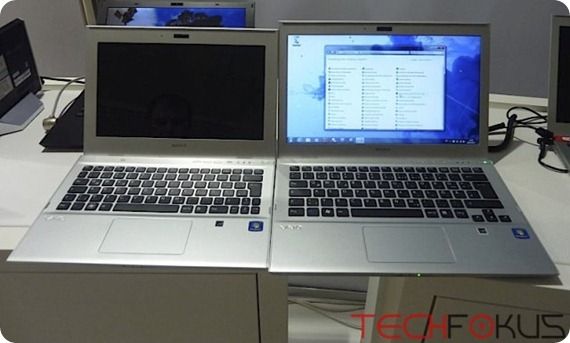 I'll link you to the news articles here. (Translations: T13  and T11) Check them out for a good set of pics. The videos are embedded below.
Update: The Sony T13 and T11 have the Intel HM77 chipset with integrated USB3.0 and other new features. The more interesting part of that is that it's the latest chipset and it supports Ivy Bridge; Another confirmation that Sony are planning to right across the low-to high-end with this product. High-end versions with 512GB SSD and an Ivy Bridge Core i7 will be well over $2000, for certain but a $700 (or thereabouts) stating price brings it to the masses. Again, Ultrabooks proving they have a high dynamic range of use cases.
Sony Vaio T13 Ultrabook First Hands On
Note the replaceable battery is now confirmed. Memory access port is also shown.
Sony Vaio T11 Ultrabook First Hands On
We asked Balasz about the battery capacity and he's reporting 45Wh. It's the same battery pack for both T11 and T13 so not bad for a the T11, not good for the T13!
Sony Vaio T11 and T13 Ultrabook Comparison