I'm surprised that this has happened. The Fujitsu U772 has been outed in the flesh in a 'pre-production' review. We got hands-on back at CeBIT when the model name was unknown and we enjoyed one of the thinnest, best-looking Ultrabooks so far. 15.9mm and amazingly small for a 14" laptop.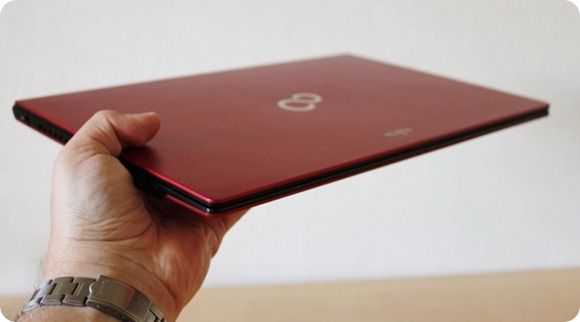 Is it the incredibly thin bezel that makes it look so modern and tasty or is the overall chic look and ultra-thin lines?
DinSide hare the lucky site to have the pre-production sample in their hands and have published a reasonable run-down of the features which include a 3G/4G option, seldom seen on Ultrabooks. The Ivy Bridge Core i5-3427U at 1.8Ghz is inside with a 128GB SSD. The are HDD options and RAM can either be 4GB or 8GB. We've put all the data we can find in our database.
Unfortuantely the 14" screen is a 1366×768 part in the review sample which is going to be very disappointing for some. We can only hope for higher resolution options.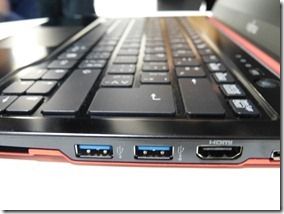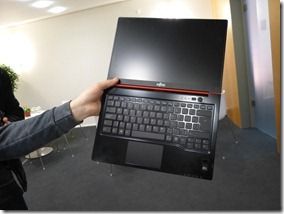 Pics from our hands-on at CeBIT in March  –  More here.
Performance and Battery Life
Without details on the size of the battery it's difficult to tell how efficient this 2nd-gen Ultrabook is but test results are showing up to 8hrs battery life. For a 1.5KG device it's not a huge step forward but then we weren't expecting too much in-use improvements. Normal use battery life figures are said to be between 6 and 7hrs.
As for platform performance, I'll send you over to DinSide for their take on that. It 'Feels very Fast' says our translation here!
More here: DinSide – Fujitsu Lifebook U772 Preview
We'll keep an eye out for official specs for you. Expect to see hands-on with this at Computex in June.
P.S. Note the docking port which could turn this into one of the best desktop Ultrabooks so far.
Our Gallery is here. Our hands-on video below.