Trigence Semiconductor has just received funding through the $300m Intel Capital Ultrabook fund for their DNote Audio technology. Dnote is a technology that drives analogue loudspeakers found in consumer electronics via digital signals to lower power requirements. Actually, looking at it, it seems that Trigence have developed a new speaker coil technology.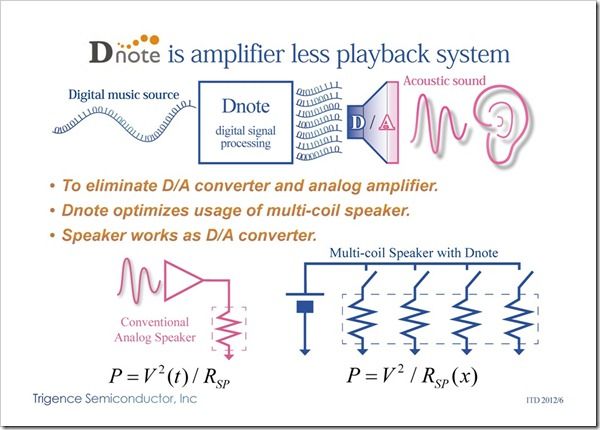 Trigence, a Japansese company, will take an undisclosed sum from Intel Capital to further develop DNote Audio.
From the company website [PDF]:
We have been developing an unique digital signal processing
technology that capable to realize full-digital speaker. Since
first press release at May 2008, we have exchanged NDA with
over 25 domestic/foreign companies and already licensed
some of them. Dnote is promised technology that could
drastically reduce the speaker power and achieve large SPL
under low supply voltage. we are working to accelarate the LSI
production.
Taking a closer look at the image you can see that the digital to audio converter has been incorporated into the speaker driver. One can only assume that the power equation on the right results in less that the one on the left! Obviously having an all digital path can reduce interference and improve signal quality too but quite how much of that is relevant on 20mm speakers is not clear!
How much power is this going to save? We're talking milliwatts here, possibly just tens of milliwatts but that's what it's coming to know. Every milliwatt saved is longer battery life.
Via Eetimes