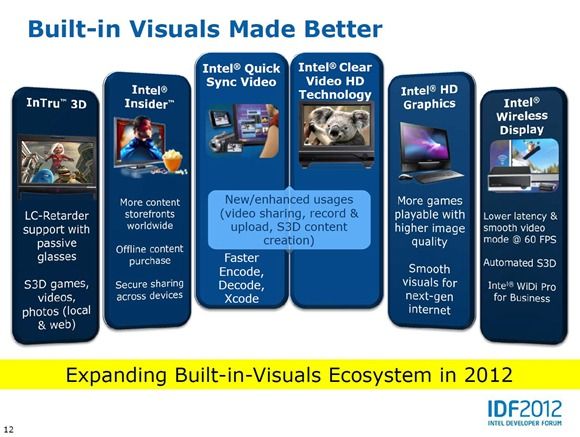 A lot has been said about Ivy Bridge, the 3rd generation Intel Core compute platform and the platform that will go into the 2nd Generation of Ultrabooks. Although the CPU core remains largely the same as in the 'Sandy Bridge' platform, it's going to be manufactured with the next generation process at 22nm. That means lower power usage and more space for other goodness on the die and that's exactly what Intel have done. They've taken the opportunity to vastly improve the graphics and media subsystem. You'll hear about '70%' improvements on the GPU which relates to gaming graphics. Early tests have shown that where modern game frame-rates were in the 10-20fps range, they may now reach above the all-important 30fps figure and include DirectX11 support which brings the Ultrabook right into mainstream gaming. In this article though I want to talk about the other features on the GPU that relate to media. For many people they may be more important than 3D gaming frame rates.
First, lets run through the various versions of the Ivy Bridge CPU that we're expecting to be formally launched for Ultrabooks in the next few weeks. remember that most of these CPUs have a 'configurable' TDP which can be set to 'down' or 'up' and will thus cap the TDP at a lower or higher TDP. We can only assume that it affects the way Turbo boost is managed.
CPU/GPU line-Up
(Details so far)
Core i7
3667U 2.0-3.32Ghz (at nominal TDP of 17W) GPU clock 350Mhz-1150Mhz
3517U 1.9-3.0Ghz (at nominal TDP of 17W) GPU clock 350Mhz-1150Mhz
Core i5
3427U 1.8Ghz-2.8Ghz (at nominal TDP of 17W) GPU clock 350Mhz-1150Mhz
3317U 1.7Ghz-2.6Gz (at nominal TDP of 17W) GPU clock 350Mhz-1050Mhz
Core i3
3217U 1.8Ghz (at nominal 17W TDP) GPU clock 350Mhz-1050Mhz
All Ivy Bridge platforms for Ultrabooks are expected to have HD 4000 graphics units with 16 execution units. 1st-generation Ultrabooks used the HD 3000 CPU with 12 execution units. (Execution units affect the performance of both 3D and video processing performance.)
HD 4000 architecture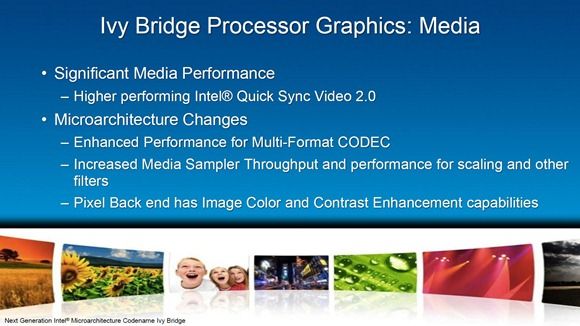 Here's around-up of the new and improved media features in HD 4000
Direct X 11 support now on-board. (HD 3000 was Direct X 10.1)
Open GL 4.0 support built-in (HD 3000 was Open GL 3.1)
Open CL 1.1 (HD 3000 had no Open CL hardware support)
3 Display support. We've already seen a demo where the Ultrabook screen and two external screens were driven via two on-board video ports.
Intel Quick-Sync Video now with improved Encode and Decode support. For example, the decoder can decode 400 frames per second of 25mbps 1080p.
Multi Format Codec (MFX) Engine (part of the Intel Quick-Sync Video architecture) supports up to 4096×4096 processing including playback of multiple 4K streams and low-latency processing for video conferencing.
Intel Media SDK enhanced to support new features of Ivy Bridge.
Improved post-processing of video output (Clear Video HD Technology.)
Intel Wi-Di support increased to 60fps at 1080p. Remember that Wi-Di is not a lossless transport layer.
HDMI 1.4a, including high-bit-rate audio. HDMI 1.4 also supports an audio return channel, ethernet channel and 3D over HDMI. We can't confirm if these features are supported in the HD 4000.
What it means for the customer.
There's a lot here for video editors and improvements in codecs may actually move HD 4000 towards to the high-end of the mainstream in terms of speed and quality. The experts are really only starting to test HD 4000 at the moment and I'm sure there will be some people that find issues but home video producers are certainly going to appreciate the speed improvements. Expect Cyberlink and ArcSoft to release updates for their media suite to support Ivy Bridge very soon. Given that we already use Cyberlink PowerDirector for 1080p source material, we're quite excited to see what sort of encoding improvements can be expected. Current estimates and early tests range up to about 50% improvement. In this Cyberlink Media Espresso 6.5 test, the HD 4000 cut 30% off the time it took to convert the sample file.
Three-screen working is a huge advantage over HD 3000. For the first time on an Ultrabook you'll be able to run a couple of external 1080p screens which really brings the Ultrabook (and other laptops based on Ivy Bridge, of course!) to the desktop. 4K output will also be an interesting 'tease' for some people.
As applications start to optimise the use of Open CL there could be some advantages for those that spend a lot of time in browsers. Speed advantages are obvious but there's potential for power saving.
Finally there's 3D support which, combines with the 'Intel Insider' secure video delivery path, could make for some interesting home theater experiences. Get those 4K screens ready.
The outstanding question is, will AMDs Trinity blow HD 4000 out of the water? In 3D gaming performance, there's a good chance it will. For video encoding, Quick Sync is likely to be a lot faster. As for overall image quality, it's too early to tell.
The first Ivy Bridge-based Ultrabooks are expected to be available in Mid June 2012. [Here's our timeline prediction]