It feels like the Lenovo U300S is an Ultrabook that many many people had been waiting for. The first reviews were out in November last year but availability has been limited in the consumer channels, which is surprising because this isn't a B2B product. In Europe today, just weeks before the 2nd-Generation Ultrabooks launch, there's still a limited number of places where you can buy it, and still at original prices. Surprising, because this is a good Ultrabook. It's not without a few issues but you'll find out about them in our full review below.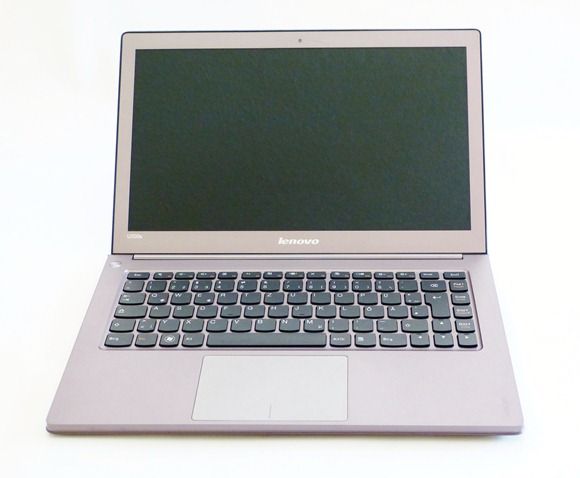 The First 5 Minutes
Check out our initial unboxing video here where we give you an overview of the U300s. We were happy with the packaging and this author was very impressed with the look of the device. 10/10 for that! It's clean, symmetrical, stylish; definite boardroom material. Checking out the facia of the laptop reveals a glossy screen and good looking keyboard. We'll talk more about those later. Overall, a really good first 5 minutes can be expected.
Live Review
You can find the Lenovo U300s in our live review here. (Direct link to Lenovo feature in our live review video.)
Specifications
The model reviewed here is a Core i7 / 256GB SSD version.  Base model specifications include ports and features along with links to Lenovo U300s news are always available in our database.
Size and Weight
At 1.32KG (measured) the Lenovo U300s is acceptable for an Ultrabook, light for a 13.3" laptop. It feels solid but is well proportioned. As mentioned, it's a very symmetrical device which means there's no tapering at the front of the device which is a design choice that could be the reason that the U300S has a slightly larger capacity battery than most.
Ports
Port layout and types is always important and here we can see that Lenovo have kept it to a bare minimum. There's no SD card slot, no VGA and only two USB ports, one which is USB3.0 Both are sleep-and-charge ports. A HDMI port and a headset port are also available.
Screen
The screen on the U300s is more mainstream than class leading. The resolution is a basic but usable 1366×768. It's glossy and the viewing angles are relatively tight. The backlight seems to be quite weak at the 50% setting where you would expect a laptop to be about right for indoor use but if you're in a brightly lit office, you could be using more backlight than on other devices. It also takes quite a bit of power. In some idle tests we saw the screen using 3.5W at full brightness.
Keyboard / Trackpad
Like the screen, the keyboard and trackpad aren't Lenovo's best. Although the feel of the keyboard was fantastic and possibly one of the most confidence inspiring keyboards we've tested, there's an issue with keys on the bottom left where they appear to get, very occasionally, stuck. This could improve over time as the keyboard wears in (we think the keyboard mask might be a little too tight around the keycaps.) There's no backlight on the keyboard.
The Synaptics touchpad is reliable although again, not the best we've tested. In two finger scrolling the response was a little jumpier than expected and there's a palm rejection feature that disables the touchpad when typing. This would be a great idea but it takes a noticable amount of time for the trackpad to be released after stopping typing. We estimated 0.5-0.7 seconds. It's annoying.
Overall we found the keyboard to be slightly better to live with than most because of its great feedback. We like the 'reverse' default on the function keys. F4 and F5 are not mapped but other function keys default to what normally require a FN-key press to access features like volume, Wi-Fi etc. This can be disabled in BIOS if required.
General Performance
The U300S we're testing here uses the Core i7 CPU at 1.8Ghz with a Turbo capability to 2.9Ghz. The SSD is also returning good performance and overall we felt the U300s offered noticeably more than a Core i5-based Ultrabook. Cooling and noise is well-tuned while offering reasonable Turbo performance.
Boot, Standby
Boot from cold includes a 5-second BIOS period followed by system boot for a good 22-second total. (Windows 7.) Return from standby is very quick at under 2 seconds. Standby battery life is around 100hrs.
Disk – Speed, Size
The SSD uses a JMicron 616 controller but we're not sure what the SSD storage manufacturer is. It's a SATA II 128GB part and offers reasonable speeds. Here's the CrystalDiskMark result…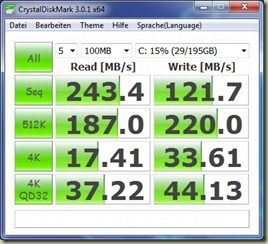 It's a good spread of performance figures. Higher-end SSDs may return better theoretical results but the average user would be hard-pressed to notice any difference.
The 256GB SSD installed on our test device offers 160GB on a C: partition and 27.5GB on the D: partition which includes drivers and applications. The recovery partition is 14.75GB in size.
Audio
Audio quality is good for a laptop. Not quite what we hear and enjoy on the Zenbooks but better than say the Toshiba Z830 which, in turn, is also acceptable. Analogue audio output through the headset port was without issues although for the best audio experience you'll want to take the digital output from the HDMI 1.4 port.
Video
Background on Ultrabook video performance:
The video playback capabilities of PCs have three limiting factors. CPU, video decoding hardware and software codecs. Windows 7 provides a good set of software codecs out of the box and supports most hardware video decoders. MPEG2, MPGEG4 part 2 (like Xvid, Divx) and MPEG 4 part 10 (like H.264) along with WMV of course. You'll need to download and install codecs for other types of file.
Like all notebooks based on 2nd-gen Core processors, the Lenovo U300s supports full HD (1080p) decoding in hardware and we tested it up to 30Mbps which is as high as you'll get on most consumer video cameras. DVD and Blu-ray should be no problem (Blu-Ray not tested) and you'll find that the CPU barely moves during the process as all the work is done in dedicated silicon. For the 30Mbps H.264 file (2-channel audio) we saw 8-15% max CPU load in power-saving mode. In addition to HDMI out there's a second method that can be used with compatible equipment. The Wi-Fi card, a Centrino module, supports Intel Wireless Display (Wi-Di) so you can send 1080p video to a screen without a cable. Wi-Di is not a lossless transport and targeted at video, not wireless desktop usage. Wireless CD-quality audio is also supported over Wi-Di. A Wi-Di / HDMI receiver costs from around $50 now.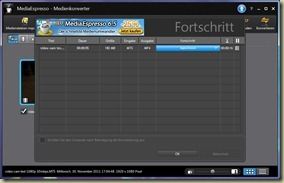 The Sandy-Bridge 2nd generation core platform used in all first-gen Ultrabooks includes the Intel Quick Sync Video hardware that, through use of an Intel SDK, can provide accelerated decoding and encoding capabilities for common video file formats. It's useful for a number of scenarios but the one that most people will probably use is format conversion so that large-format videos can be reduced to more portable versions. Using Cyberlink MediaEspresso, which supports the Intel Quick Sync Video subsystem, we were able to convert a 50 second video from 1080p to a YouTube upload-friendly 2mbps 480p (M2TS file) in about 16 seconds.
For field reporters needing to record in full quality the quick-sync video hardware provides a great way to crunch the video for upload either in quick time (newsrooms will be particularly interested in this) or over low-bandwidth connections. The Core i7 CPU in this Lenovo U300s brings the best possible performance but there's little advantage over some Core i5-based systems we've seen.
The web cam, a 1.3MP unit with rebranded You Cam software is of average quality.
Gaming
After testing the 2nd-generation Core platform for Ultrabooks many many times for its gaming performance we've now decided to skip any detailed testing. The Lenovo U300S, like all Ultrabooks, isn't a 'gaming rig' but it's capable of some gaming entertainment if games are chosen and configured carefully. You'll see acceptable frame rates on some 2-3 year old titles if you configure the graphics setting carefully but don't expect new, high-end games to work well. Given that this Lenovo U300s has the Core i7 CPU we would expect a light advantage over Core i5 based Ultrabooks but nothing significant.
The fan noise is relatively quiet under load and the side-shooting exhaust port maybe something to consider as an advantage if you really want to use the U300s for occasional gaming.
Note that 2nd generation Ultrabooks will introduce greatly improved gaming graphics capability so if you are thinking about mobile gaming, our recommendation is to wait until end of June 2012 when we'll have performance figures and some prices and availability for 2nd-gen Ultrabooks.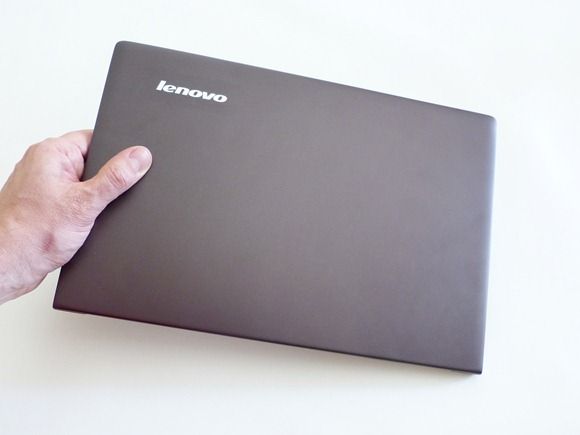 Support Ultrabooknews and our detailed reviews.
You'll find a Facebook 'Like', Twitter and Google +1 buttons at the top of this post. Please take the time to promote us if you feel this review was useful. It will help us with the next Ultrabook review. Thanks!
Networking
The U300S integrates an Intel Centrino N1030 Wifi and Bluetooth module. The module includes My-Wifi (Wifi direct) support along with Wireless Display support although potential customers should note that it's a 'value' part and only supports the 2.4Ghz band. Antenna reception seemed fairly good across a few walls to our hotspot. Wifi b/g/n and Bluetooth 3.0+HS are supported. Power drain on this PCI-based card was measured in standby and connected scenarios and was very good.
Pages: 1 2