A 3D Multimedia Experience has kicked off in Germany with the help of the Ultrabook marketing campaign.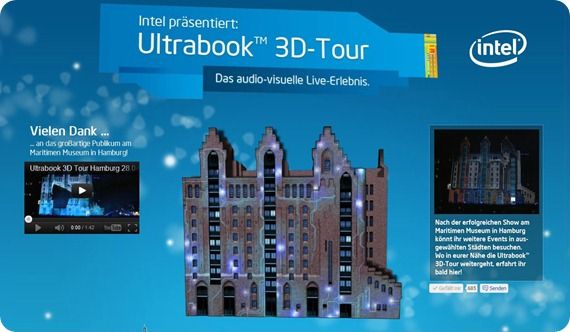 Starting at the Maritime Museum in Hamburg, Germany it will be taking a live 3D projection and music show to many thousands of people. We've just watched the YouTube video of the experience and wow! You might have seen these 3D projections before but this is one of the best I've seen so far.  Check out the two videos below.
If you're in Germany you'll need to hook up with the Intel Germany Facebook page to find out when the event is going to pop-up next. As we're located in Bonn we'll be looking out for information on the Koeln session. Let us know if you're going to be there. A Koelsch goes well with an Ultrabook chat session!
Dresden, Duesseldorf, Berlin, Suttgart, Muenchen and Koeln are on the cards. We'll add the dates below when we find out. In the meantime, German readers might want to check out the 'Traumreise' competition. Mitmachen und Gewinnen!
The Intel Germany summary video
The full show taken with Nikon D800 + 14-24 and Rode Stereo Mic Pro.