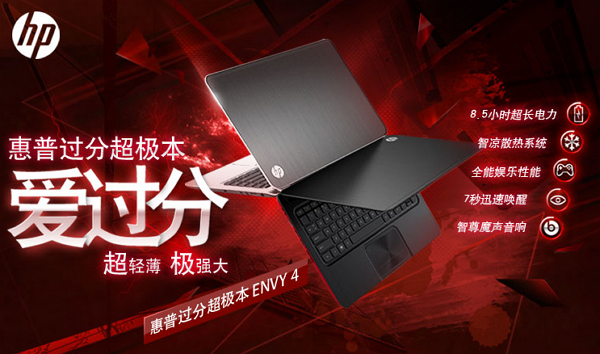 The HP Envy 4 and Envy 6 are two new Ultrabook additions to the Envy series and it looks like they'll be available for purchase soon. We were able to confirm initial leaked reports of the HP Envy 4 and Envy 6 last week by tracking down some leaked official documentation, and just recently the Envy 4 has sprung up for sale on HP's Chinese site, giving us an indication of price and a confirmation of the leaked specs.
As of last week, we only had a solid set of specs for the HP Envy 6, though it was assumed that most specs would be the same for the Envy 4, with the exception of a smaller screen. This indeed turns out to be the case.
Almost all of the specs from the leak have been confirmed as spot on. The HP Envy 4 is a 14″ Ultrabook using the Sandy Bridge platform with Intel's Core i3-2367M (1.4GHz) or Core i5-2467M (1.6GHz) options. Supplemental graphics come in the form of the discrete AMD Radeon HD 7670M GPU for all models (2GB of dedicated DDR3 graphics memory). Newly revealed information comes in the form of dimensions and weight for the HP Envy 4 which we now know to be 34 x 23.58 x 1.98 cm and 1.75 kg (3.58 lbs). The RAM count which we had for the Envy 6 (8GB) doesn't seem to hold true for the Envy 4 — all of the listed models have 4GB of RAM, though it might be possible to custom configure the unit up to 8GB. The screen resolution doesn't appear to be listed at this time.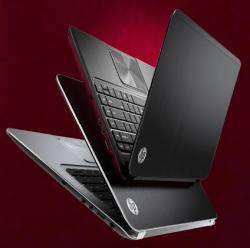 It also looks as though the Envy 4 is available in two different colors — gray and black.
The price for the HP Envy 4 on HP's Chinese website ranges from ¥5,499 ($872 USD) for the lowest Core i3 model to ¥6,299 ($998 USD) for the top end Core i5 model — not bad at all for an i5 CPU and discrete graphics. While the Envy 4 and 6 might not be as sleek as the Envy 14 Spectre, they certainly represent better budget option.
There's no indicator of the larger Envy 6 on HP's Chinese website at this point.
I expect to see both models offered soon globally — with next-gen Ivy Bridge Ultrabooks beginning to rear their heads, HP had better get the Envy 4 and Envy 6 out the door ASAP before they have to introduce a newer model!