The good people over at Ultrabook-info.de have spotted a new version of the Samsung Series 5 Ultrabook, the 530U3C-A02.  It's appearing in German price comparison engines with Ivy Bridge specifications and is expected to be an update to the existing Series 5 models available in June. Expect price drops on the current Samsung Series 5 Ultrabooks very soon!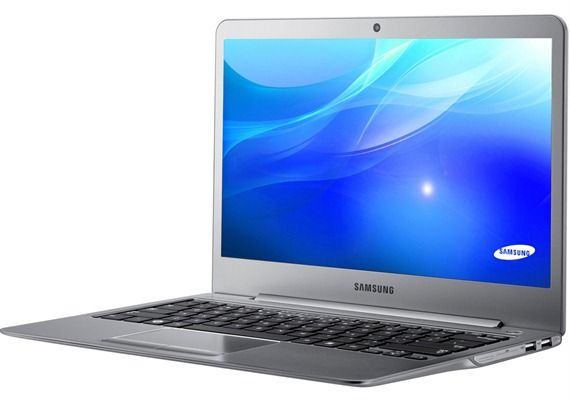 The new information is fluid right now as German retailers update their databases but it looks like both the 13.3 and 14" versions will get an update with the 14" version getting the discreet graphics that was also talked-up when the original 14" Series 5 launched.
We don't consider the specs to be final right now but there's a good chance that this set of information on the NP530U3C-A02 from Atelco, given that it has images of the new 13.3" Samsung Series 5 with Ivy Bridge, is in the right ballpark.
Product Description: Samsung Series 5 Ultra 530U3C-A02 – 13.3″ – Core i7 3517UM – Windows 7 Home Premium 64-bit – 8 GB RAM – 500 GB HDD
Operating System: Windows 7 Home Premium 64-bit
Processor: Intel Core i7 3517UM
Memory: 8 GB DDR3
Storage: 500 GB HDD ( 16 GB flash ) / 5400 rpm
Display: 13.3″ LED backlight 1366 x 768 / HD
Graphics: Intel HD Graphics
Networking: 802.11b/g/n, Bluetooth 4.0 , Gigabit Ethernet
Battery: 4-cell – up to 6.5 hours
Dimensions (WxDxH): 31.5 cm x 21.9 cm x 1.8 cm
Weight: 1.45 kg
Note the new port layout and upgrade to BT 4.0. Weight and screen resolution stays as before which will disappoint those looking for a high-end solution. Remember that Samsung also have the Series 9. The Series 5 Ultrabook is their budget ultrathin offering!



More images of the new Series 5 in our Gallery over at UMPCPortal
The new Samsung Series 5 Ultra 530U3C-A02 is currently being offered with the Core i7, 8GB RAM and 500GB hybrid hard drive (we hope with the same ExpressCache setup as the current Series 5 – it works well) for €999 which is about the same as the launch prices for entry level models of 1st-Gen Ultrabooks.  There's an NP530U3C-A05 listed for €799 and this is currently showing with a Core i5 Sandy Bridge processor. We suspect this will turn out to be the entry-level version of the new Samsung Series 5 Ultrabook with Ivy Bridge. As a starting price, it's not too bad.
Sources: Ultrabook-info.de Atelco Netbooknews