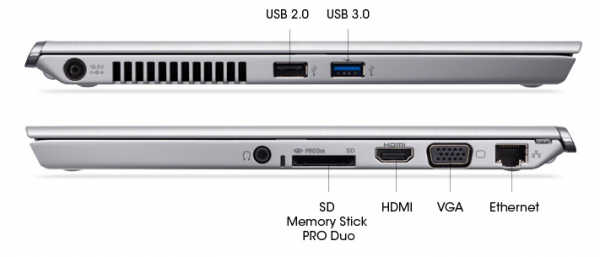 Sony surprised us last week when they finally jumped into the Ultrabook market with the VAIO T series. Shortly thereafter we got confirmation the T series would also be offered with the next-gen Ivy Bridge CPU, which I'm particularly excited about given that Intel says the HD4000 graphics will be twice as fast as the existing generation of Sandy Bridge Ultrabooks.
I've scoured the web for the best photos of the VAIO T series (T11 and T13 specs) that have yet been released. Here's a high-res gallery of the slick looking Ultrabooks:
The sleek VAIO T series owes most of it's design queues to the Sony VAIO Z, a premium 'thin and light' which doesn't quite qualify as an Ultrabook in Intel's eyes (or at least Sony has opted not to market it as such). The VAIO Z is undoubtedly a sharp machine, but that premium quality will come with a premium price. Hence the VAIO Z starting price of $2049.99 and package options as high as $4499. And that's where the Sony VAIO T comes in — a value-oriented option that has inherited the sleek looks of one of Sony's most premium laptops.