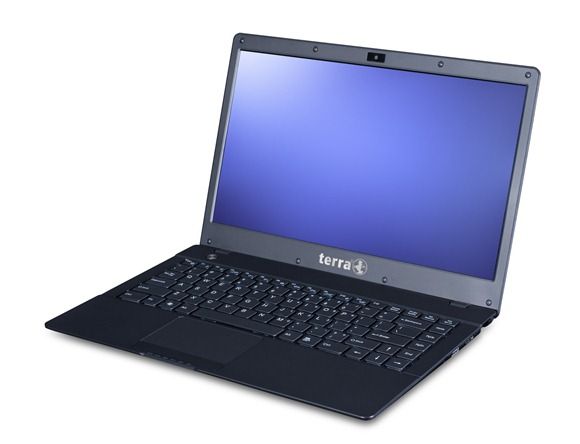 It looks like Wortmann, a local brand in Germany, are following suit with Novatech, a local brand in the UK (maybe there's a company connection?) by offering a low-cost no-frills Ultrabook. The Wortmann Terra Mobile 1450 is currently available at a launch price of 678 Euro, it matches some of the lowest street prices for Ultrabooks in the region, and offers a full 128GB SSD and a 58.5Wh battery – both worth having in your Ultrabook!
A close look at the design reveals it's probably the same design as the Novatech Nfinity Ultrabook which got a reasonable review last week. Reviews for the Nfinity are linked in our information page.
There's always the chance that the OEM offers a large variation in component choices so we can't guarantee that the device is exactly the same but let's just say it's likely.
There are two versions available at the moment. A 1.4Ghz Core i3 and 1.6Ghz Core i5 (with Turbo) come with 128GB SSD and 500GB HDD (hybrid) respectively. You'll get the HDMI, VGA and three USB2.0 connectors, a LAN port and a 1.3MP web cam on both. The Wi-Fi module is an low-end Intel Centrino module with BT integrated. 1.6KG is the weight which puts it at the high-end.
Pricing and availability
Some online retailers are already showing the Terra Mobile 1450 as available. We're seeing the following:
TERRA MOBILE ULTRABOOK™ 1450 i3-2367M W7P – 678 EUR (inclusive 19% Germany sales tax) Available now.
TERRA MOBILE ULTRABOOK™ 1450 i5-2467M W7P – 775 EUR (inclusive 19% Germany sales tax.) Available now.
Source
More information in our Wortmann Terra Mobile 1450 product page.