Launched alongside the Acer Aspire S7 this morning was the Acer Iconia Tab W510. It's not an Ultrabook at all but it's not an Android Transformer either and as we look forward, there's an interesting trade-off that mobile Ultrabook fans will have to think about. The Acer W510 offers a lightweight detachable tablet, up to 18 hours of battery life (docked) and a 3G/4G option. It's running on the future Intel Atom-based Clover Trail platform.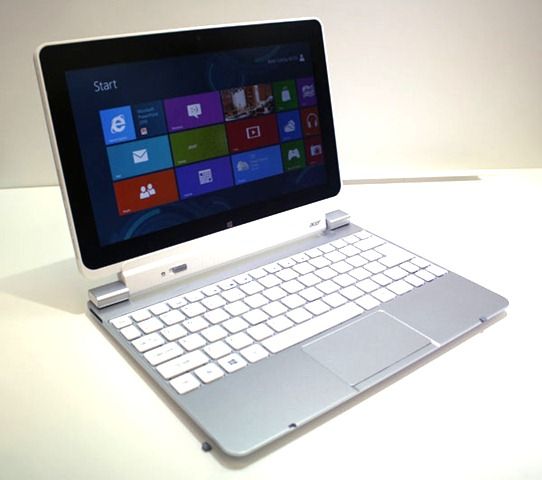 Some of you might argue that you're going to need 18 hours of battery life to get things done on a 'netbook' style device and in some cases, I totally agree but there are a number of use cases where the low power Clover Trail processor has very little down-side; Reading and writing.
Unlike some of the Ultrabook convertibles like the MSI S20 or the touchscreen Acer Aspire S7, the screen on this one is removable so you've got a tablet device that won't weigh 1.3KG. 800gm is more likely for the tablet portion. Windows 8 metro user interface works well with the platform (we've done some testing on even older netbook platforms and it's very smooth) and you've, of course, got full Windows capability and ports when needed.
Current Acer Iconia Tab W510 specs over at Carrypad.
Ivy Bridge-based devices are never going to be this small due to the thermal issues of dealing with a platform that can easily drain 30W so Clover Trail is about the best trade-off there is right now. Newer AMD Fusion platforms (Brazos 2) should also be able to offer this level of compactness but won't reach the low-power states that the Clover Trail platform can reach.
Clover Trail is available in a dual-core 1.6Ghz version (Z2580) and is highly integrated and optimized for low-power modes. In fact, it's the platform that is also going to be used for Intel Android builds which leaves us with the very interesting prospect of a dual-mode, dual OS tablet that spans both mobile and desktop modes. Forget using that all day as a desktop as you can with an Ultrabook and forget mobile video editing or heavy office work but for mobile users in light scenarios, it's defiantly something to think about.
Some info and the image via Notebookitalia
Video hands-on below from Netbooknews. Discussion below.