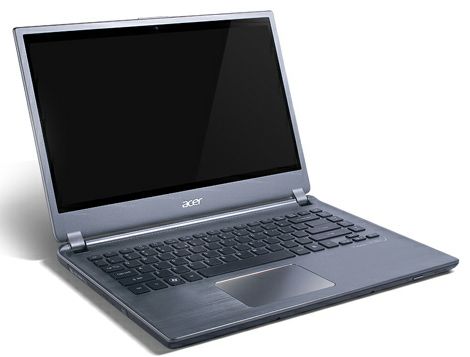 Acer America has just announced two new Ultrabooks as part of a new 'Timeline Ultra' series. On offer is a 14″ and 15.6″ display, the latter of which has a full numpad on the keyboard. The bezels appear to be nice and thin but the resolution leaves much to be desired. Discrete graphics from Nvidia are included as well as optical drives. Both come in at rather affordable prices, but we're unsure that the inclusion of the optical drive is such a great idea.
Acer Aspire Timeline M5 details in our database
Optical drives are nice, but they are being used so infrequently these days that they are usually better of as an external attachment (no need to carry something with you all the time that you rarely use). When it comes to an Ultrabook two very important factors are weight and thickness. Optical drives are surely a dying breed, and the decision to add them is somewhat questionable given the added weight and wasted space. I'd far rather have less weight and a larger port selection than an internal optical drive. Keep this in mind when considering the Timeline Ultra M5.
14″ Acer Aspire Timeline Ultra M5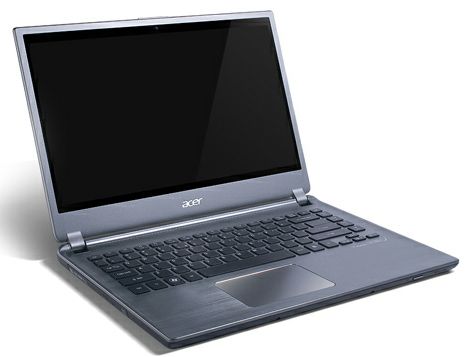 The 14″ model will be offered in a low-cost Sandy Bridge version next to a more expensive Ivy Bridge version. Both have a 1366×768 resolution, include a 500GB HDD + 20GB SSD performance cache, and have an optical drive built in. Both may have a backlit keyboard, but it isn't clear whether or not it is optional.
The Sandy Bridge model (M5-481T-6670) starts at $679 and features Intel's Core i3-2377M CPU at 1.5GHz. This model also excludes discrete graphics and will instead rely on integrated HD3000 graphics. There is 6GB of RAM on board.
The Ivy Bridge model (M5-481TG-6814) starts at $779 and uses Intel's Core i5-3317U at 1.7GHz. The i5 is capable of turbo boosting up to 2.6GHz on-demand. This model also uses Nvidia's GeForce GT640M LE discrete GPU. According to Acer, RAM on this model is actually 4GB, less than that of the Sandy Bridge variant.
If it's in your budget, definitely consider the Ivy Bridge model; for $99 more you're getting a faster CPU which includes the turbo-boost function and also the discrete GPU which is far superior to Sandy Bridge's integrated HD3000 graphics.
We're not very impressed with the port set given that these large Ultrabooks have more space to spare than their smaller brethren. Ports are the same for each: 2xUSB 3.0, full HDMI, ethernet/LAN (RJ45), and full SD/MMC reader.
Certainly we would have hoped to see 3 USB ports on here instead of two and a full VGA adapter rather than just HDMI.
Both models weight in at 1.9kg which is fairly heavy — this is thanks in part to the optical drive! Thickness is also pushing the top end of the Ultrabook spectrum at 20.6mm
Both variants will be available starting at the end of June at Acer's US store and elsewhere.
15.6″ Acer Aspire Timeline Ultra M5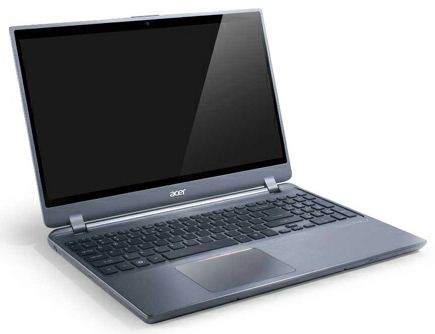 The 15″ model (M5-581TG-6666) will only come in one variant and it will offer Ivy Bridge and discrete graphics starting at $829.
The 15.6″ again leaves us wanting more with a mere 1366×768 resolution. The processor is the Intel Core i5-3317U (same as in the 14″ Ivy Bridge model"), and 6GB of RAM is on board (2GB more than the 14″ Ivy Bridge Model). Graphics are also the same thanks to Nvidia's GeForce GT640M LE discrete GPU. For storage you'll find the same 500GB HDD + 20GB SSD performance cache as the other M5 models.
The large screen makes a big footprint and leaves enough room for a full numpad on the right side of the keyboard. The keyboard is also backlit.
The optical drive again leaves this thing feeling rather bloated in the weight department at 2.3kg. Thickness is the same as the others at 20.6mm. Ports are the same for the other M5 models: 2xUSB 3.0, full HDMI, ethernet/LAN (RJ45), and full SD/MMC reader.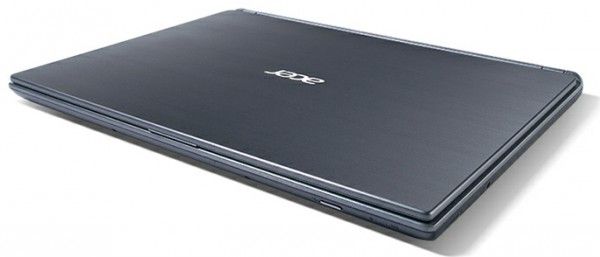 As with the other models, the 15.6″ variant will be available by the end of the month in Acer's US store, starting at $829.