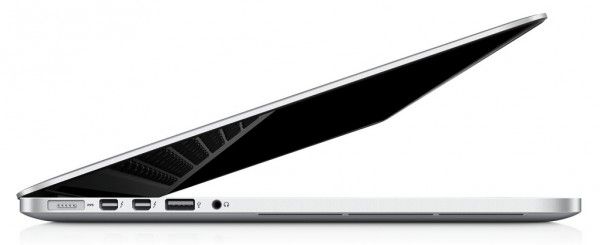 Today at Apple's annual World Wide Developers Conference (WWDC) the company refreshed it's lineup of laptop computers. The company also introduced a brand new addition to the lineup which will surely set the performance and feature bar for future Ultrabooks. Apple annoyingly is calling this the 'Macbook Pro with retina display', despite that it is smaller, lighter, and uses a totally different chassis than the Macbook Pro (it's almost as thin as the MacBook Air, actually). The screen is 15.4″ and a whopping 2880×1800 resolution, but the unit is still fairly light at 2.02kg and thin at 18mm. Step inside to learn everything there is to know about Apple's new MacBook Pro with retina display.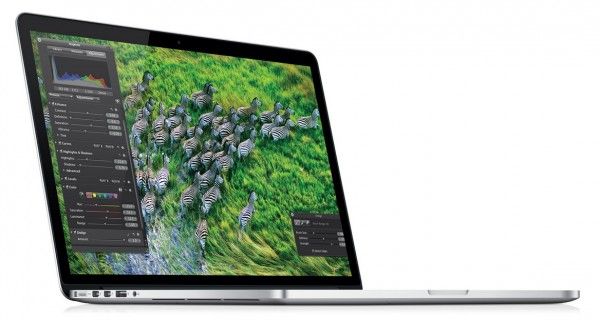 Don't let the thinness and light weight fool you, there's a lot of premium features in this beast. In fact, the Macbook Pro with retina display is even more powerful and feature rich than the thicker MacBook Pro lineup.
Retina Display, 2880×1800
The big news of course is the 15.4″ 2880×1800 display which is the highest resolution seen in an laptop computer and has 2.5x more pixels than the 1080p display found on Asus' Zenbook Prime. Apple says that they've enhanced the contrast ratio, viewing angle, and have reduced the glare from the screen by 75% while maintaining the deep blacks that come from using a glossy display. Note that 2880×1800 is actually a 16:10 aspect ratio; in recent years most companies have been moving to 16:9, the same shape found on an HDTV, this is a step counter to that trend.
Processors
Based on Ivy Bridge, this is actually not using the same Ivy Bridge platform as specified by Intel's Ultrabook criteria. To be an Ultrabook, a device must use the ULV (ultra low voltage) version of Intel's processors (designated by a 'U' at the end of the CPU name. Instead, Apple has equipped the MacBook Pro with retina display with the mid-range option (designated with an 'M') which is hotter and more power hungry, but it also opens the door to quad-core options (designated with a 'Q') which is what this unit is equipped with.
Apple is offering two versions of the MacBook Pro with retina display. The low end configuration uses a '2.3GHz quad-core Intel Core i7 processor (Turbo Boost up to 3.3GHz) with 6MB shared L3 cache' according to Apple, which we're willing to bet maps to the i7-3615QM (technical details here).
Apple specifies the high end version of the Macbook Pro with retina display as having one of two options:
2.6GHz quad-core Intel Core i7 processor (Turbo Boost up to 3.6GHz) with 6MB shared L3 cache
2.7GHz quad-core Intel Core i7 (Turbo Boost up to 3.7GHz)
This means that we're likely looking at the i7-3720QM (2.6GHz) and i7-3820QM (2.7GHz) (technical details and comparison here).
Specifications
Default RAM is 8GB 1600MHz, but you can configure up to 16GB. The low-end version of the MacBook Pro with retina display comes equipped with a 256GB SSD which cannot be configured. The higher-end version gives you the choice between a 512GB and 768GB SSD. Both versions are equipped with integrated HD 4000 graphics and an NVIDIA GeForce GT 650M with 1GB of GDDR5 memory which is Nvidia's middle GPU offering in terms of performance and uses the latest 'Kepler' architecture. Switching between the discrete and integrated graphics is automatic.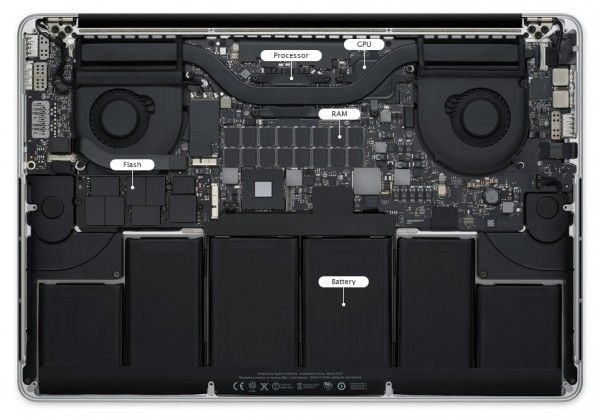 With a huge screen to drive, a power hungry non-ULV platform, and a discrete GPU, you'd think that the MacBook Pro with retina display would get terrible battery life; Apple has gone to great lengths to prevent this — the inside of the unit is packed full of a 95 watt-hour battery — and has managed to deliver 7 hours of web use. Expect lengthy charge times.
Apple did something interesting with the fans. To reduce noise they placed the fan blades asymmetrically which they claim spreads the noise over a range of frequencies, instead of stacking them at a single frequency, making the fans sound quieter an less obtrusive.

For the first time ever, Apple is including a full HDMI port on this unit (finally), along with a solid array of ports: 2xUSB 3.0, 2x Thunderbolt, full SDXC slot, and the MagSafe adapter (which has been redesigned to be thinner).
The OS has been updated to support the retina display. A few key apps will already be ready to support the new display such as Adobe Photoshop, Aperture, Final Cut Pro 10, AutoCAD, and even Blizzard's Diablo 3.
The MacBook Pro with retina display is equipped with dual microphones which ought to work well with the dictation function which is coming with OSX Mountain Lion due to be release later this summer. Apple also says that the stereo speakers in this unit are the best they've ever equipped a laptop with. The keyboard is backlit as well.
Apple also interestingly touted a new function called Power Nap which allows the Macbook Pro with retina display to update itself from standby. For anyone following Ultrabook's, you'll notice that this sounds suspiciously familiar to Intel's Smart Connect functionality. It's likely that Ivy Bridge is what's allowing Apple to accomplish this (just like an Ultrabook proper), and it doesn't appear as though we'll see Power Nap until OSX Mountain Lion.
Apple's calling the Macbook Pro with retina display "the very best computer we've ever built", and I think they can say that with a straight face.
Price and Release Date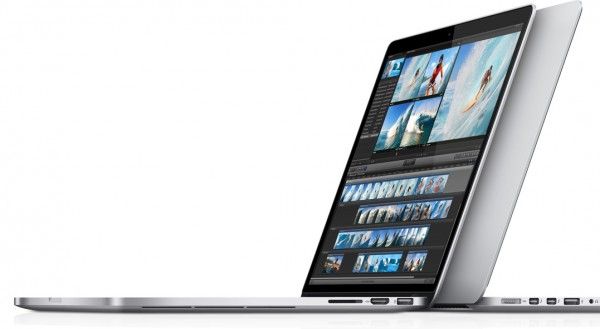 Of course, all of this is going to cost you a pretty penny. The 'low-end' version (if you can call it that!) of the Macbook Pro with retina display starts at $2199 and can be configured up to $2399 by doubling the RAM from 8GB to 16GB. The top-end Macbook Pro with retina display starts at $2799 and can go as high as $3749 if by bumping up the CPU from 2.6GHz to 2.7GHz, the RAM from 8GB to 16GB, and the SSD from 512GB to 768GB.
The Macbook Pro with retina display's release date is today! You can go online and order one now. The low-end model is currently listed as shipping in 5-7 days; same for the high-end model, unless you equip it with the 768GB SSD option, then you'll find yourself waiting 3-5 weeks.