During Intel's Computex keynote, we caught something on one of their slides that everyone else seemed to overlook — the UX21A is listed in the touchscreen section.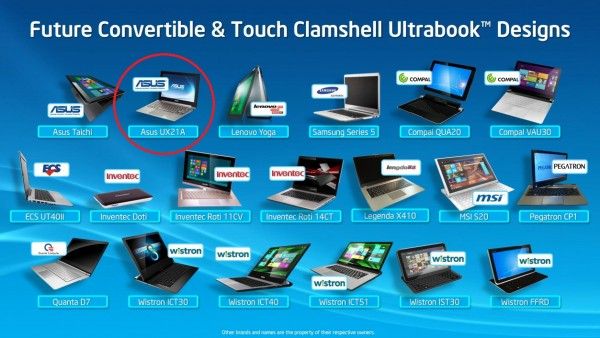 We've known about the UX21A and it's larger sibling, the UX31A, for a while now, but we've heard no mention of a touchscreen. That didn't stop Intel from putting the UX21A right next to the Asus TaiChi (a confirmed touchscreen Ultrabook) on their keynote slide in the 'Future Convertible & Touch Clamshell Ultrabook Designs' section. It's quite possible that this was a mistake and the Ultrabook that was intended to be in the UX21A's slot is the Asus Trasformer Book, but to mixing up both the image and the name is a mistake not easily made. We've got word out to Asus for verification.
Update: Just got word from Asus that this was not a mistake — apparently some of the Zenbooks will feature a touchscreen. Unclear at this point which models it will be available on and whether or not it's optional.