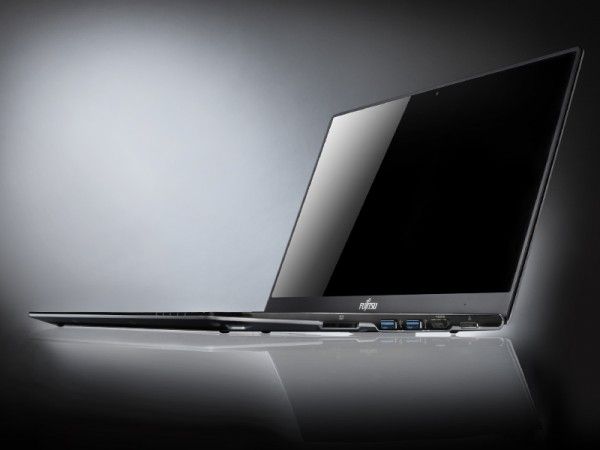 Fujitsu has announced the Lifebook UH572 and U772 Ultrabooks featuring a 13.3″ or 14″ screen respectively. The sleek U772 is a mere 15mm thick and has a tiny bezel, while the somewhat less expensive UH572 is a bit thicker at 18mm. Both are based on Ivy Bridge and both will be available in the US!
Fujitsu U772 Ultrabook Specs
We actually had our hands on the U772 back in May, but now we've got the details you crave! This slim beauty has a magnesium alloy casing which will likely give it a good premium feel.
The U772 can be equipped with an Ivy Bridge Core i5 or i7, and can also use Intel's vPro platform for those interested in enterprise use. At 1.4kg, the U772 is not the lighest tablet in the world, but pretty good for an Ultrabook with a 14″ screen. Speaking of the screen, we're unfortunately looking only at a 1366×768 display (LED backlit). Fujitsu calls this a "frameless" display — not quite as cool as it sounds (as is the job of a PR specialist!), but it does seem to have a damn thin bezel for what it's worth (and we know some of our comments out there will love this!):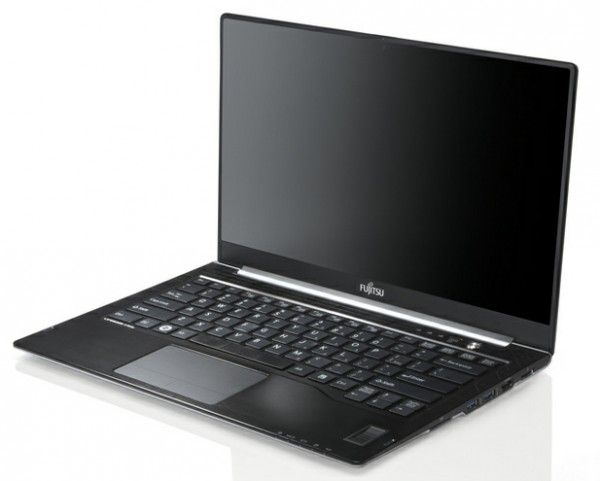 Beyond being quite thin, reasonably light, and having a tiny bezel, the U772 has an average set of ports: full HDMI, 2x USB3.0, 1x USB2.0, SD card slot, Mini LAN port (which probably means there's an included adapter), and a 3.5mm headphone jack. The Fujitsu U772 can be equipped with up to 8GB of RAM (1600MHz), but will likely ship with 4GB standard. HDD/SSD options are as follows: 320GB/500GB HDD with 32GB SSD cache or 128/256GB SSD. Two additional features to please business users: a biometric fingerprint scanner and a docking port for easy use with a desk setup. Fujitsu claims up to 7 hours from the 45 Wh battery (which is not user-removable). WiDi is also included.
If you want an even more detailed set of specs, check out our Fujitsu's U772 database page.
U772 Pricing and Availability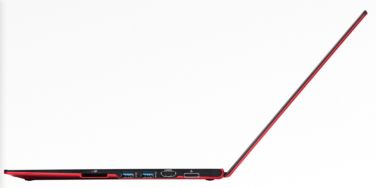 Price for the U772 starts at $1149 and while Fujitsu claims that it will be 'immediately available', we're still seeing  "Available at End of June 2012" at the official U772 product page on the US site. We found the U772 listed on Fujitsu's German, Japanese, and UK sites, so we're expecting wide availability. If the photo above is any indication, the U772 might be available in a few colors — could be locality dependent as we snagged this image from Fujitsu.de.
Pages: 1 2