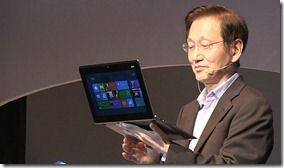 Jonney Shih is getting somewhat of a name for himself in tech PR circles. He comes across as honest, likable, passionate and funny and his presentation of the ASUS TaiChi was as good as any of his stage appearances. We wish we had been there! The presentation wasn't without it's problems, but that's what we like about them.
It's worth a look. We've added it to a playlist below where you'll be able to watch a number of ASUS TaiChi videos from Computex today.
What do you think about the TaiChi? Is it workable? Expensive? A PR stunt?