In 2007 Microsoft introduced 7 inch tablets based on low power CPUs and Windows with touch capability and an overlay user interface called the Origami Experience. The Origami UMPCs drove a huge amount of attention at launch but within 4 years all traces of the devices were gone from the market.
Yesterday Microsoft introduced 10 inch tablets based on low power CPUs and Windows with touch capability and an overlay user interface called Metro. The Surface has already driven a huge amount of attention, but will it last?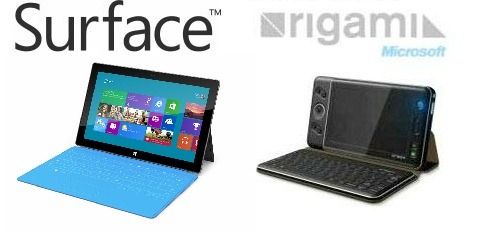 What's the difference and should we be more excited this time round?
Yesterday Microsoft launched the Surface tablet. It's a 10 inch tablet built in two version to offer either a consumer/student Windows 8 RT experience or a full-blown ultrabook-quality Windows 8 experience, a bit like the ASUS Tablet 600 and ASUS Tablet 810 do.
Here's the teaser video.
The ARM-based version, the Microsoft Surface Windows RT, will be based on Tegra 3 and a 31Wh battery that, in my opinion, will be good for 15 hours of use, 10 hours of hard work or 25 hours of offline reading or typing. It will come with the Microsoft Office for Windows RT package.
The X86 version, the Microsoft Surface Windows 8 Pro, will use a Core i5 CPU with Windows 8 Pro and offer an Ultrabook-like performance. With a 42Wh battery it will weigh about the same as the Samsung XE700 which also has a similar sized battery. It runs for about 4hrs under full use and can be used for about 6-8hrs of offline reading or writing. With Windows 8 and Ivy Bridge I expect this to increase to about 5hrs and 10hrs respectively for online working and offline semi-idle modes.
Both versions of the Microsoft Surface will offer the Metro user interface.
So what's the difference between the consumer failure, the UMPC, and the Surface?
Firstly, Windows 8 is not only built to accept touch in the traditional tablet PC sense but it integrates 'consumer touch' for the first time. That is, using finger-based touch on an integrated user interface built for the job. There's also an applications channel too and this could be the one thing that the success of the surface rests on because traditional Windows applications just aren't geared towards touch and the built-in Metro apps aren't going to keep many people interested for long.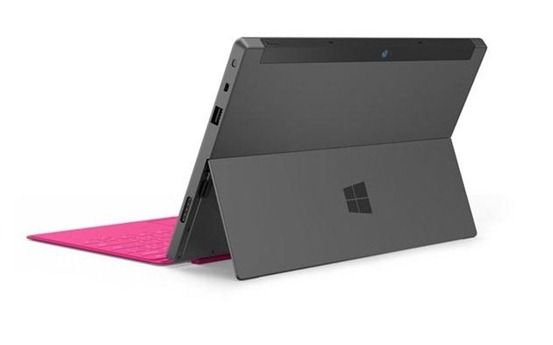 We're also seeing, for the first time, Windows on ARM architectures which bring a new category of low-power platforms to the table. While they aren't geared towards traditional Windows multitasking apps, they could offer impressive battery life on products that are well integrated, as Microsoft clearly thinks Surface Windows RT is.
The market has changed in the last 5 years too. The iPad has brought touch and social mobile computing to the masses. People understand what a tablet is now. 5 years ago, it wasn't easy to find convincing usage cases.
Clearly the RT version isn't going to be the best productivity solution when it launches but it could mature through the development of Metro applications very quickly and become a better solution than the 'all singing' Wintel version for many people. For those that want the full dynamic range of computing scenarios though, it looks like you've got an option in the Pro version, as long as the price, with the included docking keyboard, is right.
Don't expect Surface to be the only option in the market when Windows 8 launches though. ASUS has already announced similar solutions and there are many more to come but Surface could be the product that sets the bar and shows OEMs exactly what's needed.
Surface has a great chance of success as a product in certain segments but it's impact on a total mobile computing solution could be larger. It's an ultra mobile PC that spans consumer to productive usage and that what' the ultra mobile PC was for many people.  The Surface Pro is going to be desktop capable and potentially, the only PC you need. If Intel and MS get together to tightly control power usage in the Metro environment, as we're expecting to happen with Haswell in 2013, then maybe UMPCportal will live again!
What are your thoughts on Microsoft's Surface?