Tucked into a report on MSI's 2012 line-up over at Digitimes today is a mention of the MSI S20 Slider that appeared at Computex earlier this month. MSI are apparently aiming for an October or November release for between $799 and $899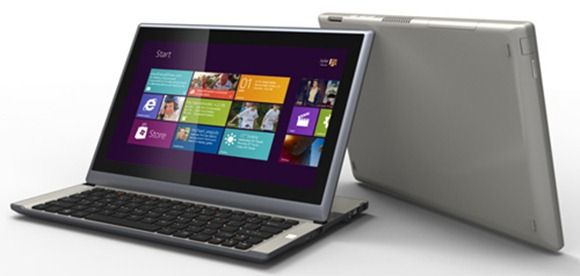 Launch date is obviously going to depend on Windows 8 availability but we're expecting that to happen without delay in Q4 anyway. As for the price, it seems quite competitive.
Core-based Windows tablets command retail prices of over $1000 in the market today and basic Ultrabooks start at around $699 so to offer this complex design that could attract premium customers at such a low price is a surprise. Of course, we're only talking entry level here so we might see a $799 Core i3 version with 64GB SSD in limited supply with the fully specified Core i5 version with 128GB coming in at the $999 mark.
More information on the S20 in these articles and in the MSI S20 information page.
As for the design, we think the slider model is attractive but less practical than a removable slate design. Removable tablet designs have the challenge of squeezing everything into the slate component but the result is a much lighter tablet experience. A 1.3KG slider tablet is never going to be comfortable to work with but an 800gm removable slate is another matter, even if it would have a shorter battery life in tablet-only mode. 
What do you think? Does the all-in-one appeal to you or would you like a modular design?