Part of the SSD upgrade how-to yesterday required buying a new CD/DVD writer. The old LG unit I was using bit the dust during the test so after a quick online check I found a cheap one in-stock at our local electronics Shop. While I was there I spotted the Samsung Slim Portable SE-208. For just 2 Euro more, looking way better than the cheap offering next to it and having a USB HDD mode, how could we ignore it? At just 34.95 Euro (inclusive of 19% sales tax) the Se-208 is working out well. The SE-208 is currently $30.75 at Amazon USA.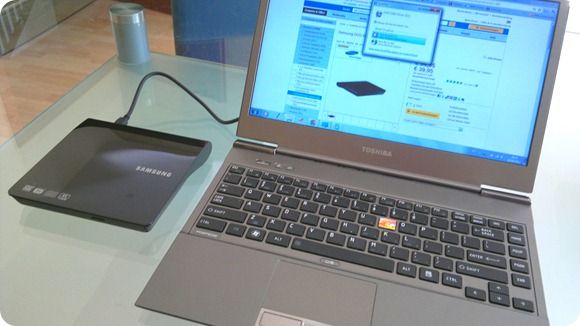 The SE-208 weighs 300gm, doesn't require any device drivers or software with Windows 7 and is powered via USB. On the Toshiba Z830 that means just one USB3.0 connector or one USB2.0 connector. A Y-cable is provided if a single USB port isn't enough to power the device but in-use we found it to be extremely efficient.
Tests
DVD playback is supported natively on Windows 7 (Not on Windows 8 without buying the codec pack though) and although the device wasn't silent, it was quiet enough not to disturb a music DVD that was tested.
CD playback was a little noiser but still OK for H-Fi system playback unless you're listening to audio with a lot of quiet sections. (i.e. not for classical music.)
CD-R used to write a boot and recover disk via Windows Backup and Recovery.
Boot device. The Toshiba Z830 Ultrabook recognized the 'ODD' on pressing F12 to access the boot menu after power-on.
Windows 8 image file burned to DVD using pre-installed Toshiba Disc Creator. 3.27Gb in 17 minutes.
Supplied Nero Essentials Software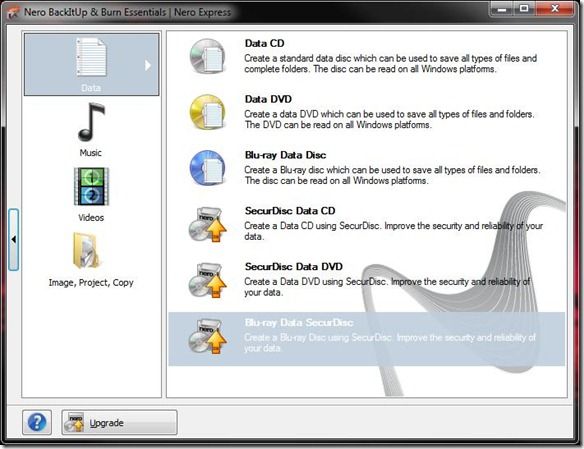 Tested: Audio CD burn from MP3 files: Somewhat noisy at 24x write speed (possibly due to cheap, unbalanced discs!) but completed as expected in about 4 minutes. Conversion of files was done quickly (about 5 seconds per MP3 file.)
Tested: Copy Audio CD. CD recognized via Gracenote lookup. Image created and image burned successfully. Playback on CD player failed but playback PC via the CD drive worked.
HDD / AV connectivity mode
The Samsung SE-208 has an 'AV Connectivity' mode. By pressing the eject button for more than a second (when the disk tray is already ejected) the device goes into a USB HDD mode exposing files on CDs and DVDs for access by devices with USB HDD support. This includes some tablet PCs and TVs as long as the device can supply enough current to drive the SE-208. Here are some images of it being tested on a Samsung LCD TV.
There's no write capability in this mode and to be clear, DVD's can not be played back in this mode. Only files on a CD or DVD can be accessed.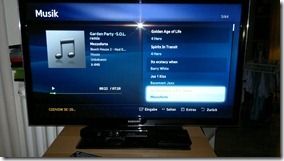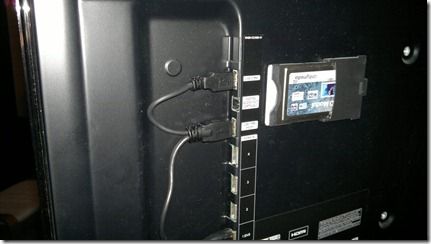 Efficiency
In a DVD playback test, after what looked like an initial 1W jump in battery usage it dropped down to average 300mw measured by Perfmon on an otherwise idle system in battery saving mode. In real terms, not many people are going to notice the extra 3%-5% battery usage over local file playback.
Issues
The SE-208 can get a little noisy at high speeds but at 300gm, it's difficult to see how anyone could really dampen the noise better than this. It's certainly quieter than the full-size, mains-powered LG DVD writer that preceded this on the desk.
The glossy black finish will get greasy very quickly.
It would have been nice to see a simple cloth case in the package.
No long-term testing performed.
Summary
At 34 Euros and 300gm I can't fault this little USB2.0 external DVD multi recorder. The USB HDD mode is useful and it looks great too. The perfect companion to an Ultrabook. There are thinner, quieter and faster drives out there but you might find it difficult in this weight and size category. We're happy with our purchase so far and can recommend it.
Format and speed support
The Samsung SE-208 supports the following formats:
DVD:
DVD-R, DVD-RW, DVD+R, DVD+RW, DVD-ROM, DVD-Video, DVD+R DL, DVD-R DL, DVD-RAM
CD:
CD-ROM, CD-R, CD-RW, CD-DA, CD+E(G), CD-MIDI, CD-TEXT, CD-ROM XA, Mixed Mode CD, CD-I, CD-I Bridge (Photo-CD, Video-CD), Multisession CD (Photo-CD, CD-EXTRA, Portfolio)
Note, this isn't a Blu-Ray player.
Read/Write speeds are as follows:
Media type, Read, Write
DVD-R,CAV 8X,PCAV 8X
DVD-RW,CAV 8X,ZCLV 6X
DVD-R DL,CAV 6X,ZCLV 6X
DVD+R,CAV 8X,PCAV 8X
DVD+RW,CAV 8X,ZCLV 8X
DVD+R DL,CAV 6X,ZCLV 6X
DVD-ROM,CAV 8X,-
DVD-RAM,PCAV 5X,PCAV 5X
CD-R,CAV 24X,PCAV 24X
CD-RW,CAV 24X,ZCLV 24X
CD-ROM,CAV 24X,–