Today Vizio is making their two new Ultrabooks available for pre-order, this move marks Vizio's first jump into the PC space. Vizio is a maker of HDTVs first and foremost, but they've recently taken a shot at the tablet market and now they're trying their hand in the PC world. The company is offering an Ivy Bridge Ultrabook which comes in 14″ or 15.6″ variant as well as a full-sized laptop and an all-in-one desktop. We're of course most interested in the Ultrabooks, step inside for a rundown.
Back when we first saw Vizio's PC offering at CES the 'thin + light' offering was not officially an Ultrabook, but rather just an Ultrabook alternative, or 'ultrathin' as we like to call them. That's changed however; Vizio's offering, which seems to still be named 'Thin + Light', carries the official Ultrabook designation which means you can expect a certain range of features, performance, battery life, and size/weight.
Before we get into specifics, Vizio has an intro video to share:
Vizio Thin + Light Ultrabook Specs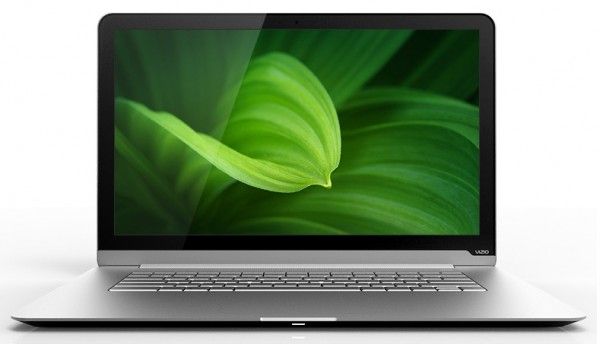 Coming in 14″ (CT14) and 15.6″ (CT15) flavors, the Vizio Thin + Light is based on Ivy Bridge. You'll notice that we're calling this an 'Ultrabook' instead of 'Ultrabooks', that's because both feature the exact same ports, specs, and features. The only thing that differs between them in the display, which we'll get to in just a minute.
The whole range of Intel Ivy Bridge ULV processors is available: Core i3-3217U (1.8GHz), i5-3317U (1.7GHz), or i7-3517U (1.9GHz). All models are equipped with 4GB of RAM and integrated HD 4000 graphics. If the numbers on Vizio's page are to be believed, the RAM is slower at 1333MHz than the max-supported 1600MHz that you'll find in most Ivy Bridge Ultrabooks. Storage space is 128GB of SSD across all except the i7 where it gets a bump to 256GB.
Both units come with Windows 7 Signature which they say has no bloatware (unless you consider Window Live software bloatware).
The screens are the only thing to set the two sizes apart. It's good to see that an HDTV manufacturer isn't sending this out with low res screens; the 14″ is equipped with a 1600×900 display while the 15.6″ comes with a full 1920×1080 display. We've confirmed that the 1080p screen is IPS, but the 1600×900 screen doesn't appear to be. We'll inevitably see screen comparisons against the Zenbook Prime's quality 1080p IPS display.
The ports are going to be the hardest sell on the Vizio Thin + Light Ultrabook. All you're getting is 2xUSB 3.0, full HDMI, and a 3.5mm headphone jack. This is not going to cut it for some people and is a far cry from other port-packed Ultrabooks.
The keyboard looks a bit dated (and are no backlit), but it hearkens back to my old HP laptop which had one of the best keyboards I've ever used. Not every keyboard needs to be chiclet-style!
Both units are 17mm thick, not bad for a 14″ and 15.6″ Ultrabook, and make par for weight in their size class at 1.5kg and 1.7kg respectively. The 14″ version packs in a 51Wh battery while you'll find 56Wh on the 15.6″ version.
As with other companies, customers purchasing Vizio's Ultrabook will be eligible to upgrade to Windows 8 for $14.99 through Microsoft's upgrade offer.
Price and availability
Vizio's Thin and Light Ultrabook isn't the cheapest in town, but it does come with better-than-standard displays. The 14″ version (1600×900 display) starts at $899 (i3, 128GB SSD) and goes up to $1199 (i7, 256GB SSD). The 15.6″ version (1920×1080 display) starts at $949 (i3, 128GB SSD) and goes as high as $1249 (i7, 256GB SSD).
All models, except for the low-end 15.6″, of the Vizio Thin and Light Ultrabook can be pre-ordered today directly from Vizio (see 'Buy Now' at the top right). The currently un-pre-orderable model is currently listed as "coming soon".
Thanks to Mac Landis for the tip!