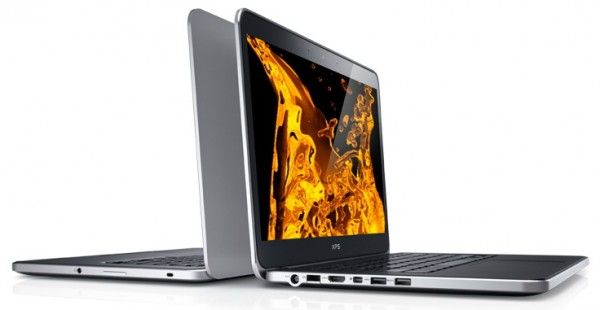 Unlike the "new" XPS 13 which we warned you about the other day, Dell's XPS 14 Ultrabook actually is new and starts at $1099 for the base model with a 1600×900 display. Dell says it'll last for 11 hours on a charge. Four configurations are offered, all of which are Ivy Bridge, and range from Core i5 with integrated graphics to Core i7 with discrete graphics. Step inside and we'll break it down.
Dell's XPS 14 Ultrabook is made from machined aluminium and has a sharp look to it. Dell claims an 11 hour battery time on the SSD equipped model. The claim is believable thanks to a large 8-cell 69Wh non-user-removable battery. Big, yes, but as per our 2/3 rule for realistic battery capacity we'd estimate around 7 and a half hours of good use from the XPS 14.

Of the four configuration options, the first two use Intel's Ivy Bridge Core i5-3317U processor @1.7GHz (turbo boost up to 2.6GHz) while the latter two use the Ivy Bridge i7-3517U processor @ 1.9GHz (turbo boost up to 3.0GHz). All four variants come equipped with a 14″ 1600×900
The base option runs $1099 and uses the aforementioned Core i5 and pairs it with 4GB of 1333MHz RAM and a 500GB HDD + 32GB performance SSD. Jump up to the next model for $1199 and you add the NVIDIA GeForce GT 630M discrete GPU with 1GB GDDR5 VRAM. Add $300 for the next model up ($1499) and you move up to the Core i7 CPU and 8GB of 1333MHz RAM. Last but not least, add yet another $500 for the top model ($1999) which grants you a 512GB SSD. For these prices we'd at least hope to see Dell using 1600MHz RAM, but alas….

The port set is the same across all variants of the Dell XPS 14. It's not shabby, but we do think the inclusion of only two USB ports will leave some users wanting. On the XPS 14 you'll find full HDMI, mini DisplayPort, 2xUSB 3.0, ethernet/LAN (RJ45), a 3.5mm headphone slot, and a full SD card reader.
The XPS 14 scrapes the ceiling of Intel's Ultrabook thinness criteria at 20.7mm (21mm is maximum for 14″ displays). The unit weighs in at a rather heavy 2.1kg, likely thanks to it's large battery.
Be sure not to mix up the XPS 14 with Dell's XPS 14z Ultrabook, they are two completely different computers!