An analysis of the new MacBook Pro with retina dispay by AnandTech reveals that, despite being lower resolution, the Zenbook Prime UX21A's 1080p IPS display still holds its own in the contrast ration department.
Anand vaunts the MacBook Pro with retina display's impressive screen saying,  "the MacBook Pro's Retina Display is the first IPS based panel Apple has ever used in a MacBook. Viewing angles are much improved, as are black levels" and, "everything is ridiculously crisp". Still testing shows that, while the UX21As display may have less than half the pixels, it outperforms the MacBook Pro with retina display in contrast ratio.
Contrast ratio is the difference between the brightest white that a display can show and the darkest black. This is an essential metric for display performance. For instance, on the previous generation of Zenbook, the UX21E/UX31E, the non-IPS displays score low in contrast ratio and are really quite awful for media viewing despite having a high brightness. The newer IPS display represents a massive jump in contrast ratio and overall display quality. Here is AnandTech's findings: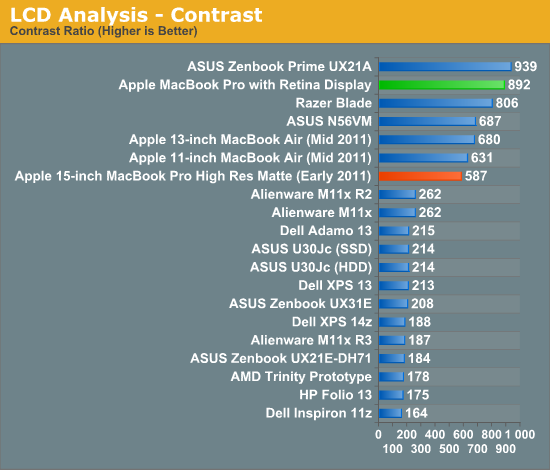 Anand said of the Zenbook Prime UX21A's display, "it's easily the best display I've ever seen ASUS use and arguably one of the best displays ever deployed in a notebook, much less one as small as the UX21", though this was prior to the announcement of Apple's MacBook Pro with retina display. Since then, factoring in screen size and resolution, Anand has changed his tune to, "I was pleased when ASUS introduced a 1080p IPS panel in the new Zenbook Prime. I am even happier with the Retina Display in the next-generation MacBook Pro. I still need to clock in more hours on the new panel but it's been amazing thus far."
It's great to see that the UX21A display holds its own, especially considering that the UX21A will likely be priced well below Apple's $2199 starting price for the MacBook Pro with retina display. Now if only Asus would get the Zenbook Primes out the door and into customers hands!