Amazon.com have been running the $100 Gift Card Promotion on Ultrabooks for a while now but it ends on Saturday the 21st July. It's a good week to buy though because there are some new 2nd-gen Ultrabooks in stock now. If you've been waiting, strike now!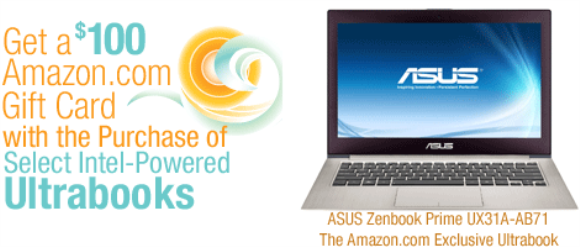 Chippy's Choice
I've spent some time going through the offers available and I've come up with a selection to suit different types of buyer. Take a look below… Here's a link to all the Ultrabooks available in the promotion right now.
Back To School Ultrabook
Don't wait until the last minute to buy a laptop for your return to school. You need time to set-up and learn how to use your Ultrabook, especially if this is your first Win 7 PC. I have been looking at the Lenovo U310 favorably and there's a great offer available today but I'm saying 'hold off' on it at the moment due to a number of reports of poor WiFi performance.  Lenovo appear to me taking a closer look at this. [Interesting forum thread on the U310 Wifi issue here.] There's a lot to choose from in this category. Beware of the Core i3 models though as some of them are using the older Sandy Bridge CPU.
Sony Vaio T 13.3 Core i5 – $780
Samsung Series 5 NP530C Core i5 – $829
Toshiba U845 Core i5 – $879
Lenovo U410 Core i5 – $899
Dell Inspiron 14z Core i5 – $799
The Sony Vaio T is definitely worth a second look as is the Samsung Series 5 which is based on the older, and trusted, 1st-gen model but we've chosen an HP as the #1 choice in this section.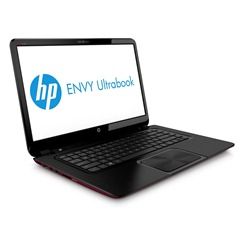 HP Envy 4 1030US Core i5 – $812 4GB, Discreet Graphics, 52Wh battery, 500GB Hybrid HDD, Backlit keyboard, Beats Audio, Intel 2×2 WiFi Card, HDD drop protection, 2 DIMM slots. No VGA port.
The Envy 4 Ultrabook is also available in a Core i3 version too (at $699 from HP) but we're not recommending that one. Go for the Ivy-Bridge based Core i5 1030us which came into the Amazon selection just 48 hours ago. [Link. EAN Code: 0887111102690. 4GB RAM is expected, not 6GB. 500GB HDD is expected not 640GB as stated on Amazon.]
Best $1K Ultrabook
Moving up a step to the $1K bracket brings in the SSD-only options so if you don't need the storage offered by a Hybrid solution, go for a faster SSD-only solution. Want a 1600×900 screen? Let's take a look at the offers.
Sticking out like a golden egg is the ASUS Zenbook Prime UX31A with 128GB SSD and a 1920×1024 screen. It's being offered for $1079.99 with the $100 gift voucher.  The Sandisk SSD might not be the fastest and you should be aware of a potential issue with screen backlight 'bleed' but apart from that, there's a good feeling about the UX32A out there. [Link to Amazon]
The other interesting option at the $1K level is the Toshiba U845W with the widescreen display. This too has just come online at Amazon and is worth looking at if you want a wider working area for a possible two side-by-side Windows. There's only a Hybrid HDD in the U845W but after our close hands-on a few weeks ago, it's high on our list as a well designed Ultrabook.
A full review of the U845W is not available at this stage but Notebookcheck have taken a close look at the German version, the U840W. [Amazon Link] Also worth looking at is the HP Folio 13. It's a 2011 Ultrabook but it still has one of the best battery life figures of all the Ultrabooks. The keyboard is good, it includes a full SSD, there's a good port selection and it's well reviewed and well-rated.

Pro Ultrabook
You want fast storage, a quality build, security features and the best keyboard possible. Long battery life is a must and it needs to look great.
Our immediate thought is for a Core i7 Samsung Series 9 13.3" but we can only find the Core i5 version with the Gift Card special offer.
The 13.3" Series 9 has a fantastic wide-view screen and oozes style and uniqueness. We've tested the 15" version but that doesn't have the high-end screen of the 13.3" version. It weighs just 2.55lbs [Amazon link] Current price $1299
For the same price you can get a Core i7 / 126GB SSD version of the Sony Vaio T.  We don't think it's in the same class as the Series 9 for style and weight but you do get the high-end CPU. [link]
Unfortunately Amazon aren't listing many of the B2B-style Ultrabooks. There's no VPro-enabled solutions there that I can see. Where are the big boys with their Core i7-3667U for example? Where's that Toshiba Portege Z930-S9302 when you need it?
Note Amazon.com does not ship outside the USA.
Let us know what y
ou choose and check back to let us know how you get on with your new Ultrabook.
Here's a link to all the Ultrabooks available in the promotion right now.