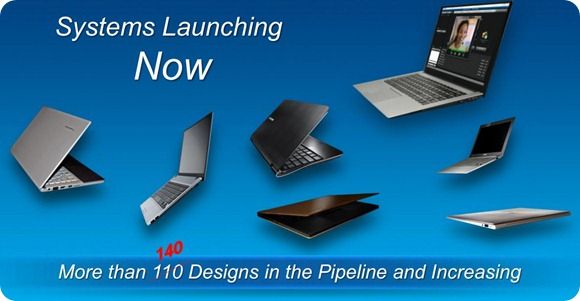 Netbooknews has just published some information they've had from Intel during a chat with Navin Shenoy, the President of Intel Architecture Group and General Manager of the Mobile Client Platform. Most of the information wasn't anything new but there's a hint towards back-to school offers. As we were expecting, back-to-school offers will be starting in August and real sales numbers will start to show.
We're expecting 140 Ultrabooks globally and this figure has been re-iterated. 35 designs are already in the market apparently. We have 65 Ultrabooks in our database so they must be talking Ivy-Bridge models here. Again, 140 is a huge number, huge growth figure and shows commitment from all manufacturers, except Apple!
40 designs will have touchscreens with Windows 8. That tallies with previous figures given by Intel which also said that 12 would be convertible designs.
Intel say that August sales figures will show growth, especially because some back-to-school offers are planned. Intel can't subsidize the cost of Ultrabooks but you can be sure they'll find a way round that by paying for marketing, cash-back and other offers. We're expecting $599 offers soon so check back with us regularly for more information. Sidenote: The Acer S3 is $650 today at Amazon.com
Intel are continuing to say that $699 will start to make entry-level Ultrabooks more attractive. We hope that isn't for last-gen or Core i3-based current models though. Some of those Ultrabooks are already available for that price.
Finally, Intel gave Netbooknews a little teaser about Haswell, the first SoC (Single On-Chip) platform for Ultrabooks and PCs – 20X less idle power than Ivy Bridge. That's the S0ix state Intel have been talking about. We estimate that to be good enough for Windows 8 AOAC, something in the region of 200mW.  We'll be getting more information on Haswell in September when we attend the Intel Developer Forum.
The full article, in German, is available at Netbooknews.de