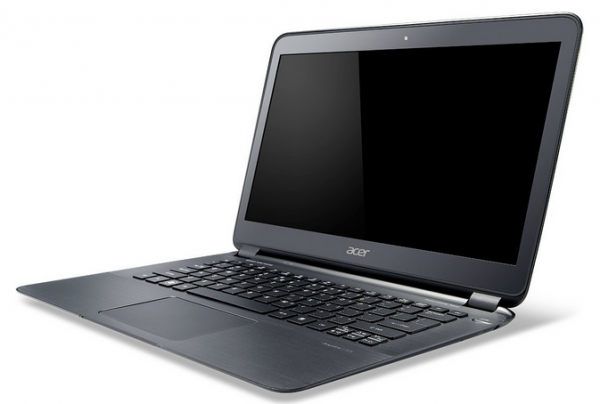 Our pal Avram Piltch of LaptopMag got his hands on Acer's new Aspire S5 Ultrabook and has an in-depth review available for your perusal. Does the S5 stand up to the competition? LaptopMag rated it 3 stars out of 5, but certainly not because of its record breaking SSD array.
The Acer Aspire S5 Ultrabook is now available for purchase starting at $1399. This includes the motorized 'MagicFlip' port section which drops down from the bottom of the Acer Aspire S5 to reveal the bulk of the ports in the back of the unit. You might wonder how Acer is charging $1399 for the S5 when it has a relatively low resolution (1366×768) screen next to the Asus UX31A Zenbook Prime and UX32VD (both 1920×1080) — the secret is hidden away inside: two 128GB SSDs linked together in a high performance RAID 0 configuration.
In testing, LaptopMag says that the SSDs, which appear to the OS and user as a single drive, are the fastest they've ever tested. It blows the competition away with an amazing 299 Megabytes per second: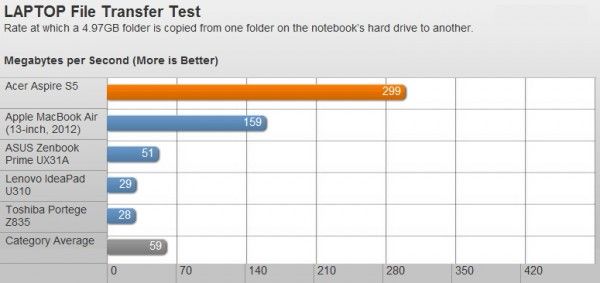 So what then lead to the final verdict of 3 out of 5 stars?
For one, it seems that the resolution is not up to par and we'd have to agree. For $1399, 1366×768 feels too low. With Asus now offering 1080p displays on the UX31A Zenbook Prime and UX32VD Ultrabook, we think 1600×900 should be minimum on premium devices like the S5. LaptopMag also found the colors to be unimpressive and the screen not particularly bright.
Then there is battery life which is apparently also lagging. In LaptopMag's testing, the Acer Aspire S5 came in an hour shorter than the UX31A. At 5 hours and 24 minutes you can still get a reasonable amount of work done, but those who need more lengthy battery life might want to look elsewhere.


And finally there is that novel MagicFlip port function which we've been concerned with from the beginning. There are obvious fears about breakage in the long term. It's surprising that as we're moving toward widespread use of solid state drives Acer decided to cram a breakable mechanical oddity into the S5. LaptopMag had no issues with the function from a mechanical standpoint but also hopes it will hold together over several years of use and would prefer that the ports be on the side rather than in the back.
There's more benchmarks and info to be considered and we encourage you to go check out LaptopMag's full review of the Acer Aspire S5 if you're interested.
[embedsite same_height_as="content" src=http://ultrabooknews.com/pullin/productdetails-pullin-generic.php?id=815]