On an earnings call yesterday, Paul Otellini, CEO of Intel, told journalists that Ultrabooks would reach $699 by 'fall' – Q4 of this year. Does he not read Ultrabooknews? Ultrabooks are already selling for under $699. Take the Acer Aspire Timeline M5 for example.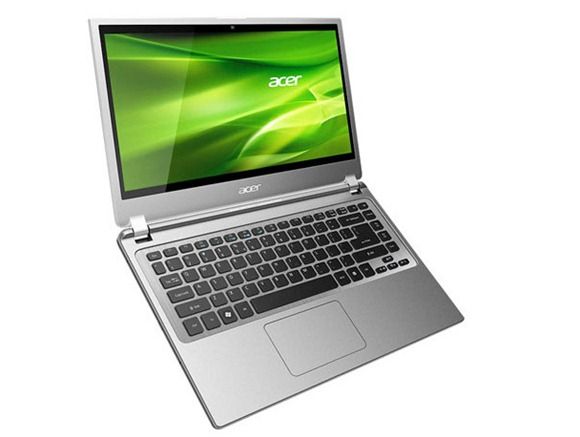 We haven't had the chance to review the Acer Timeline Ultra M5 yet but after checking out an early review from DigitalTrends we think that not only could it be a good seller, but it could cut across everything else Acer has produced for the Ultrabook space. The Acer S5 for example offers more style and less weight but in terms of performance, there isn't much in it and yet the M5 is at least $600 cheaper than the S5
Make no mistake, the M5 is built to a price and not to any sort of style, high specification or high quality standard but you're getting a huge amount for the money. It's mainstream specs though…
The 14" version with GT640M LE only has a 1366×768 screen and weighs 4.3lbs. The hybrid HDD won't be the fastest Ultrabook option either.
On the positive side, a battery capacity of 54Wh should see you getting good battery life figures and because of that discreet graphics card, some gaming success too.
One small correction on the Core i3 clockrate mentioned in the DigitalTrends review – there's no Turbo. It's 1.7Ghz max which, over a period of long-term high CPU load, won't be much less than a 1.8Ghz Core i5 can produce with Turbo as it drops to preserve heat build-up. It looks like a Core i5 version will cost $100 more. In this price bracket, that might be too expensive for such a small advantage in processing power.
The Acer M5 is cheap, but it's also looking cheerful. We' advise you to wait for some more detailed reviews before putting at the top of the list but in the meantime, make sure you at least have it somewhere in your list.
[embedsite same_height_as="content" src=http://ultrabooknews.com/pullin/productdetails-pullin-generic.php?id=927]